Jaguar F-TYPE Coupe High Performance Support Vehicle [VIDEO]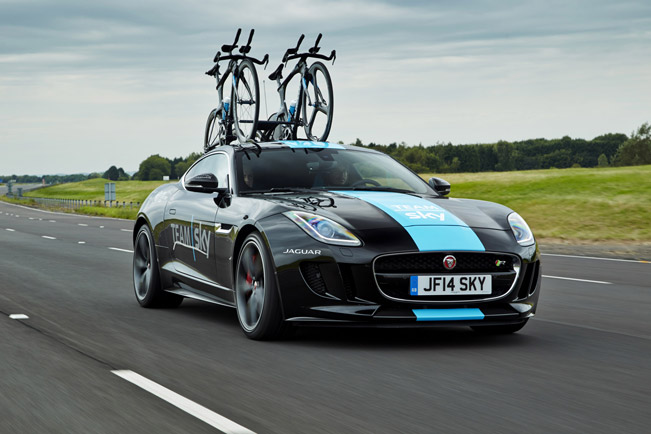 Jaguar F-TYPE Coupe High Performance Support Vehicle has been built to support the Team Sky during Stage 20 of the 2014 Tour de France, when riders will traverse from Bergerac to Périgueux. Jaguar F-TYPE R Coupe is the most dynamic and capable performance-focused production Jaguar ever built. It went on sale globally earlier this year. This current bespoke F-TYPE concept vehicle is based on the F-TYPE R Coupe and will be also driven by the 5.0-litre V8 supercharged engine, which produces 550 horsepower (404 kW) and 680 Nm (502 lb-ft).
There are no current plans for a series production of this unique F-TYPE Coupe. This exciting version of the sports car will only support some of the Team Sky riders this Saturday on 26th of July during the time trial (TT).
The car is built in such way so that it can accommodate two of the team's Pinarello Bolide TT bikes. The exterior of the car is finished in Team Sky's livery, with colourways and other Team Sky graphic design cues.
The same can be also seen inside the car. Furthermore, other specifications feature a separate electric supply in the boot that delivers power to the radios, amplifiers, microphones, horns and televisions this supporting communications between Team Sky's Sports Director and the rider.
Jaguar is the Official Supplier to Team Sky since 2010. Back in the victorious 2012 and 2013, the British engineering leaders supplied Team Sky with a fleet of performance Jaguar XF Sportbrakes.
Video Source: YouTube
Source: Jaguar