Jaguar F-PACE Will Support Team SKY at the Tour De France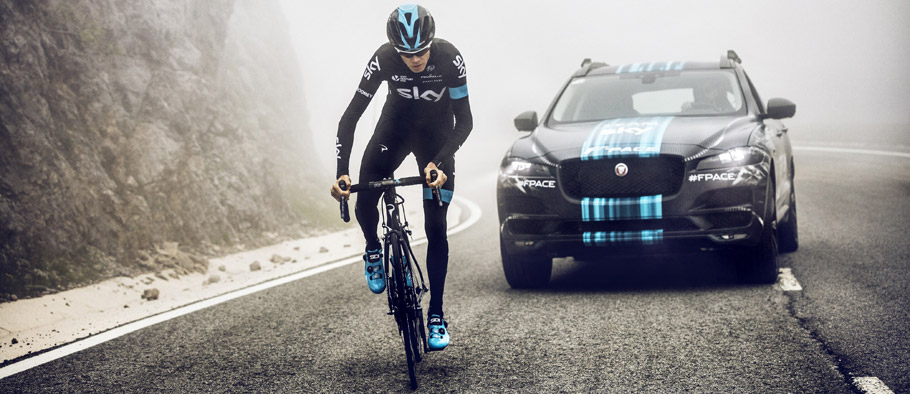 Jaguar F-PACE will support the Team Sky at the Tour de France Grand Depart in Utrecht. The highly-anticipated vehicle is ready for some action and positive emotions! The vehicle is at its final stages of development and will be unveiled later this year. As you know, some of the testing stages include sending the Jaguar F-PACE to the training camp of Team Sky's rider Chris Froome at the La Pierre-Saint-Martin camp for some real action and some more test with real situations and real problems. In fact, the team has personally chose the vehicle, and it will support them at the most demanding and high-profile event for the team.
Jaguar F-PACE and its job
What the vehicle has to do is to carry team members. For example, the cozy cabin of the Jaguar will offer a place for the Team Sky Sports Director, doctor, mechanic and one of the team members. The team really has made a perfect choice of a support car, because the F-PACE offers some spacious ad wide cabin, that blends comfort and additional features. The passengers will feel calm and relaxed, while the Jaguar vehicle offers numerous goodies for them to relax and continue the run. Furthermore, the car will carry some of the most important parts of the equipments. For example drinks, energy gels, clothing, tools and even spares for the bike.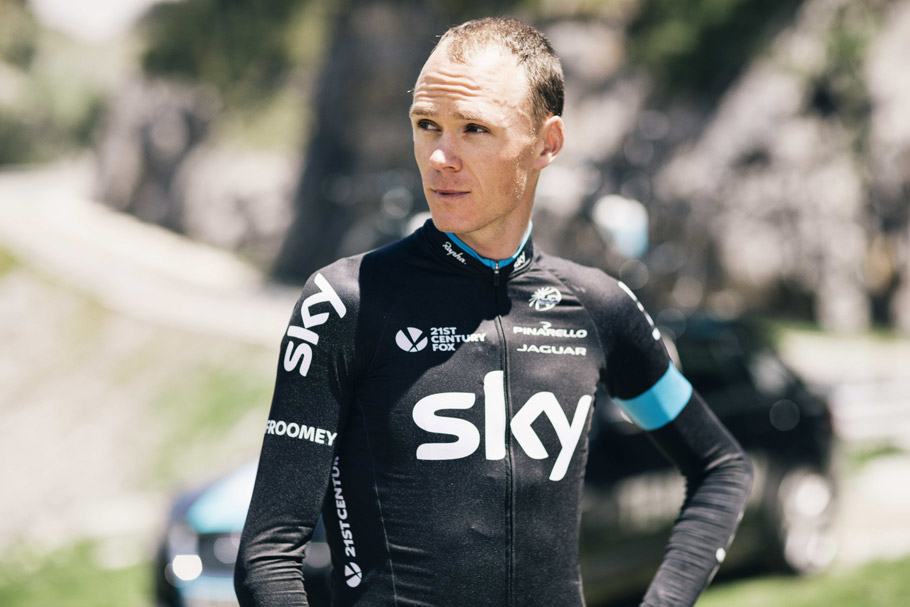 Moreover, the Jaguar F-PACE will support the team for the first 21 stages, starting from Utrecht, Netherlands on Saturday, 4th of July. The time trial race will then go throughout 13.7 km of twisted route towards Belgium. The track will test the endurance and the will of all the riders, even at the earliest stages of the race. Definitely a team like the Team Sky needs a vehicle like the Jaguar F-PACE.
SEE ALSO: Jaguar F-PACE Shown via new Teaser Video
Furthermore, the Jaguar F-PACE Prototype offers and a special solution to the bike racking. It is especially developed by Jaguar Land Rover's Special Vehicle Operations and includes an unique telescopic clamp, especially designed, to ensure quick-release of Team Sky's Pinarello Bolide Time Trial bikes. Definitely the Jaguar vehicle will offer some incredible help throughout the stages.
And to ensure, that the F-PACE will be covered until its debut, Jaguar team created a special camouflage fabric, that will wrap the vehicle. It will also reflect the performance and the design of the vehicle, inspired by Tour de France. Furthermore, the Jaguar F-PACE will include special carbon-fiber elements, and of course numerous more details, heavily influenced by Tem Sky themes.
We wish luck and many occasions for celebration to the Sky Team! And stay with us for further information!
Source: Jaguar