Instinctive All-Wheel-Drive? 2016 Jaguar F-TYPE R Coupe Just Got It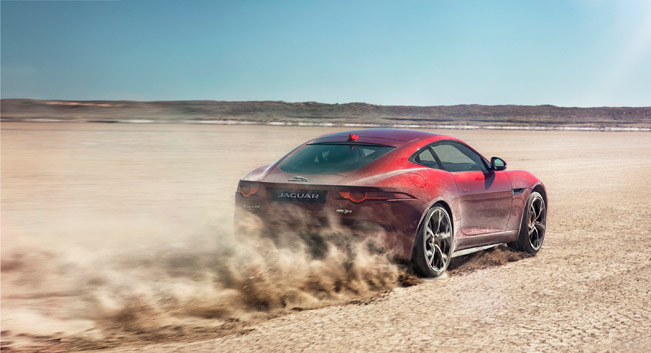 Have you ever thought that an All-Wheel-Drive System can be Instinctive? Well, if you haven't then you are not alone in this. Obviously, for Jaguar things are getting pretty modern because the 2016 F-TYPE R Coupe just got an Instinctive All-Wheel-Drive. The car was unveiled in the South African desert on Hakskeen Pan. The technology is a first for the F-TYPE line-up and it expands the dynamic capability of the car.
Speaking in numbers: it reaches the 60 mph in 3.9 seconds, while the top speed is limited to 186 mph. What delivers better traction in different road conditions is the standard Instinctive All-Wheel-Drive and Intelligent Driveline Dynamics.
F-TYPE model range will soon grow from 6 to 12 derivatives in the 2016 model year. The entire lineup will debut very soon at the 2014 Los Angeles International Auto Show on 19th of November.
The event and the special premiere also mark the beginning of the technical partnership between Jaguar and Bloodhound SSC. The goal is to raise the world land speed record to above 1,000 mph. For this reason, Jaguar assisted the Bloodhound SSC team in successfully completing a vital communications test at the Hakskeen Pan.
There was achieved also one more thing: the stability of the F-TYPE R AWD Coupe was demonstrated as it was driven flat-out by Bloodhound SSC chairman and former world land speed record holder, Richard Noble. The car was driven at top speed towards a jet flown at 500 mph and just above 50-ft above the ground.
The combined closing speed of almost 700 mph enabled the successful test of the system. This will also allow communications between the ground crew and Andy Green in the Bloodhound SSC, which will run for the first time on the Hakskeen Pan just twelve months from now. Andy holds the supersonic land speed record of 763.035 mph.
The additional details on the 2016 Jaguar F-TYPE range will be announced after the official launch at the 2014 Los Angeles Auto Show.
Source: Jaguar