Volkswagen Golf or Scirocco? Ingo Noak can't decide so it tunes both

Ingo Noak Tuning releases wide body kits for both the Scirocco and Golf models
Ingo Noak Tuning isn't a car company which we hear about very often. Maybe this is the reason why the tuners have surprised us with two tunings on different Volkswagen models. Obviously, the experts couldn't decide, which one they prefer: the imposing Scirocco, or the athletic Golf. We can't make this choice either, so we appreciate the efforts done here.
Basically, the specialists from Northern Germany have created high standard custom body kits for the duo. What the couple shares in common is the Ingo Noak Tuning's wide body conversions, which has been made of high quality ABS plastic in combination with glass-fibre parts.
SEE ALSO: Ingo Noak Tuning Team Granted Golf VI With Special Attention 
Some of the highlights of the wide body kit include in-house made wheel arch flares with racecar-style fixing screws, carbon spoiler lip and Cup side skirts. There is also something that the tuner calls R bodykit, which includes extended wheel arches that house the 20-inch diameter wheels. By the way the latter are pushed right to the edges by the new spacers, thus delivering low, wide and purposeful stance.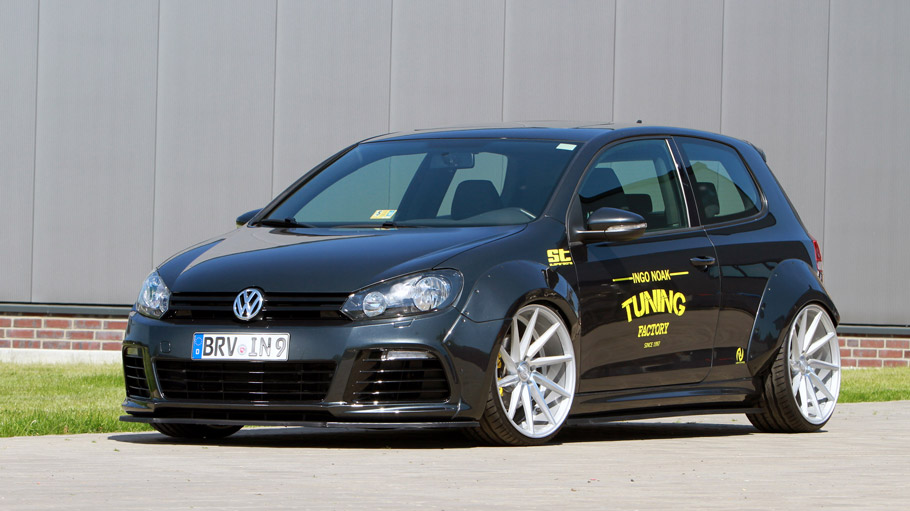 At the back of the car we see new carbon-look underbody diffusers and massive 100mm outlets of the North Exhaust stainless steel exhaust system. Although both models come riding on 20-inches, the Golf sits Advance Wheels AV2.0 alloys wrapped in 265/25R20 Hankook Ventus S1 Evo tyres, while the Scirocco's big arches are filled by Keskin KT14 wheels with red painted centers and polished flanges, and are shod with the same as Golf's tyres.
At last, both models have received ST coilover suspension, which drops the ride height further.
These wide body Wolfsburgers are high class, aren't they?
Source: Ingo Noak Tuning