Infiniti JX Concept
Infiniti JX Concept is exhibited at the 2011 Concours d'Elegance in Pebble Beach, California. The vehicle is a new 7-passenger/3-row luxury crossover that joins the Infiniti lineup in spring 2012.
The JX Concept was unveiled by Senior Vice President and Chief Creative Officer Shiro Nakamura.
"The JX Concept advances the Infiniti design language, sharing design cues of the Infiniti Essence concept, yet interprets those elements in ways suitable to the needs of a family luxury crossover," said Mr. Nakamura.
"From the dramatic front grille and headlight design to the crescent-cut D-pillar and greenhouse shape, the JX Concept shines as a fresh, bold alternative to the many flavors of vanilla currently dominating the three-row luxury crossover segment.", he added.
The interior offers class-leading roominess, along with a 2-nd row seat design that tilts and slides forward providing exceptionally easy 3-rd row access. There are also a 14-speaker Bose Studio Surround system and Infiniti Connection Telematics.
The safety is granted by Blind Spot Intervention and Backup Collision Intervention.
Still, this is a concept and the production version will make its official debut at the Los Angeles Auto Show, this November. 2013 Infiniti JX is expected to hit the market in the spring of 2012.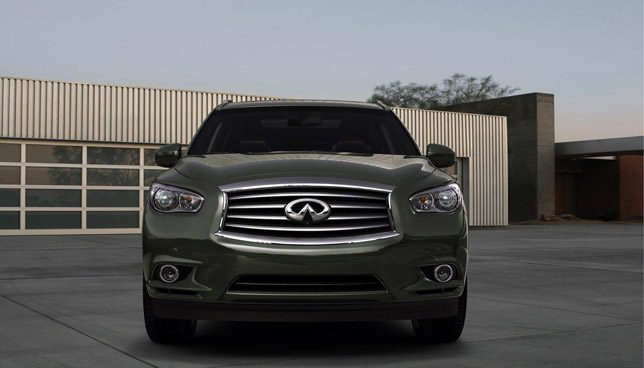 Source: Infiniti