Hyundai Team Unveiled the 2017 Elantra Model

Hyundai revealed the all-new 2017 Elantra model at the Los Angeles Auto Show. As one of Hyundai's most famous and best-selling model lineup, the Elantra has always delivered hihg-performance and high-quality vehicles and we all hope that the latest, 2017 Elantra model will be as distinctive as all of its predecessors. And by now it looks like it does its job pretty good: the vehicle demonstrates neat aerodynamic design, sophisticated style, efficient power units and tons of handy hi-tech components. So, let's see why what exactly makes this vehicle so interesting.
Crafted both in Montgomery, Alabama and Ulsan, South Korea, the latest Elantra stands out from the crowd with its distinctive appearance, premium components and advanced safety technologies. In fact, the new Elantra also received the Top Safety Pick+ rating from the Insurance Institute for High Way Safety (IIHS) and 5-Star Safety Rating from the National Highway Traffic Safety Administration (NHTSA).
Exterior design
The new Elantra comes with confident stance, thanks to the smooth, yet aggressive lines that reveal the underlying inspiration and passion of designers.
The front strikes you with a signature hexagon grille, HID leadlights with Dynamic Bending Lights and one of a kind LED daytime running lights. Elantra is, in fact, with enhanced sporty looks thanks to the front wheel air curtains and the incorporated technology for better turbulence and wind resistance. Also, the underbody covers. the aerodynamic rear bumper bottom spoiler and the rear decklid contributes to deliver better coefficient of drag.

Elantra also features sleek sidebody character lines that also match the style of the special 17-inch alloy wheels, all-new LED door handle, side mirror LED turn signal indicator and LED taillights with high tech graphics. 2017 Elantra is also offered with eight exterior colors, five of which are especially created for this particular model.
Interior Design
The inside welcomes everyone with contemporary and neatly done design that is optimized and driver-oriented. The design is also more intuitive and geared with high-quality materioals, along with premium technology gadgets. There are soft-touch materials, high-tech details and overall premium feel when one is inside.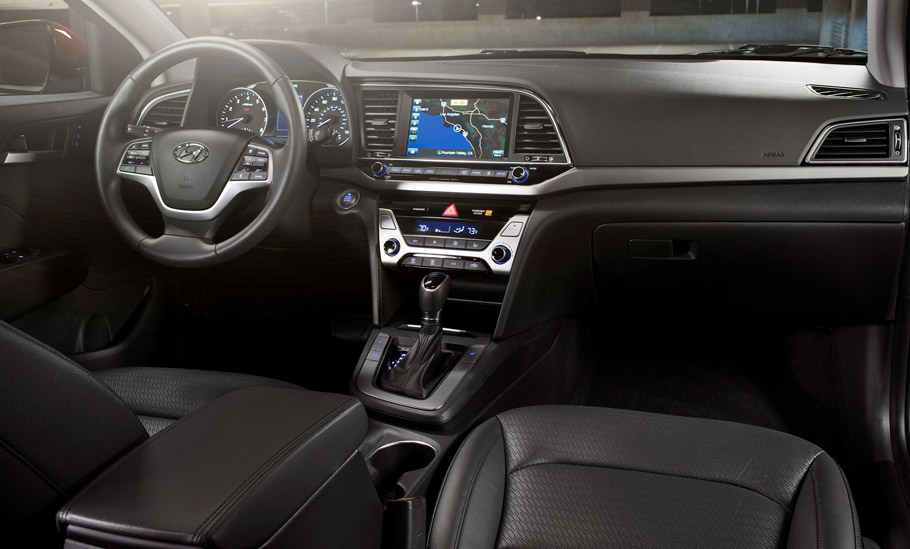 The cabin is geared with functional instrument panel, 4.2-inch TFT LCD instrument display and with numerous buttons and controls, placed on strategic points. It also offers premium onvenience features like memory system for the power driver seat and side mirrors, dual automatic temperature control with auto-dimming and auto-defoging system.
The fresh and efficient drivetrain system
2017 Elantra receives two optional power units that are especially designed to deliver improved fuel efficiency and enhanced driveability capabilities. The standard engine is available on SE and Limited trim levels and is a 2.0-liter Nu MPI Atkinson four-cylinder unit that offers a total of 147hp (108kW) and 132 lb-ft of torque at 4,500 rpm. This sweetheart is paired to either six-speed manual transmission or Elantra's special next-gen six-speed automatic transmission. This automatic gearbox contributes for more dynamic performance and futher enhances the fuel efficiency. It ensures faster gear shifts and optimizes the overall control over the vehicle. And finally, it reduces the rolling resistance and friction to the minimum.
SEE ALSO: Hyundai Starts Selling 2016 Sonata Plug-in Hybrid Across the United States
The second engine is a 1.4-liter Kappa turbocharged four-cylinder engine, available on the Eco trim. It produces 128hp (94kW) and 156 lb-ft of torque. It is mated to an EcoShift seven-speed dual-clutch transmission. This engine is geared with special cylinder exhaust manifold for improved efficiency. The unit also offers increased tumble flow for fast combustion and suppressing knock tendency.
Source: Hyundai