Honda EV-STER Concept
Honda will reveal the new EV-STER, an electric rear-wheel-drive two-seater convertible sports car at the 42nd Tokyo Motor Show, next month.
Honda EV-STER Concept features a lot of carbon fiber materials, easy-to-operate twin-lever steering, adjustments to some vehicle characteristics such as motor output and suspension settings.
Furthermore, the instrument panel features not only meters, but also the vehicle information display as well as the network display used for the audio, SAT NAV systems and internet access. The well-designed layout of the meters and displays enables the driver to concentrate on driving and enjoy the comfortable space.
Honda remains committed to developing sports models beyond the expectations of its customers and offering exciting and thrilling mobility products.
Check out the specifications, below!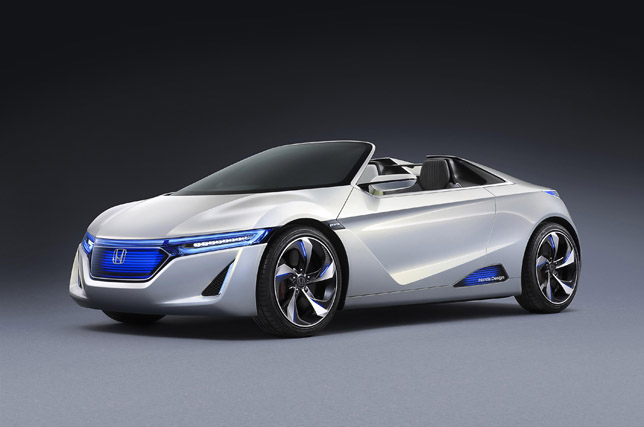 Honda EV-STER Concept Specs: Vehicle length – 3 570 mm Vehicle width –  1 500 mm Vehicle height – 1 100 mm Wheelbase – 2 325 mm Maximum speed – 160 km/h Acceleration – (0 – 60km/h) 5.0 sec Maximum range – Approximately 160km (JC08 mode) Battery – 10kWh lithium-ion battery Maximum battery output – 58kW Charging time – 200V: under 3 hours, 100V: under 6 hours
Source: Honda