Honda Clarity Fuel Cell Vehicle Revealed at 44th Tokyo Motor Show

Honda Clarity Fuel Cell Vehicle has been just unveiled at the 44th Tokyo Motor Show. Since Honda is the pioneer of hydrogen fuel cell technology, it was about time to make a step forward regarding this 'eco'-matter. The next generation car previews best-in-class range comparable to fossil fuel-powered vehicles. The good news is that even though the model has just made its Japanese debut, it will be also distributed in selected European markets next year.
In short, the car incorporates company's latest and most advanced technologies. As a matter of fact, this is world's first production fuel cell powered sedan that houses entire fuel cell stack and drivetrain system instead of normal engine and transmission.
SEE ALSO: Toyota Opens up Hydrogen Fuel Cell Patents [VIDEO] 
Furthermore, the Clarity Fuel Cell also has space for five persons, meaning that the size of the fuel cell stack and the power generation unit have been minimized via advanced technologies to the V6 engine's size. The output of the car is also comparable to a V6 one, and it measures 177 hp (130 kW).
The high-pressure tank inside of the car stores hydrogen gas at 70 MPa. This in turn increases the mass of the hydrogen that can be stored and extending the range of the vehicle. When you have in mind that it is coupled with the efficient powertrain and vehicle's energy consumption is reduced that you can also make the conclusion that the Clarity Fuel Cell achieves rather excellent vehicle range per full tank of over 700 km (435miles). And the best part is that it only takes three minutes to fill the tank.
Design of Clarity Fuel Cell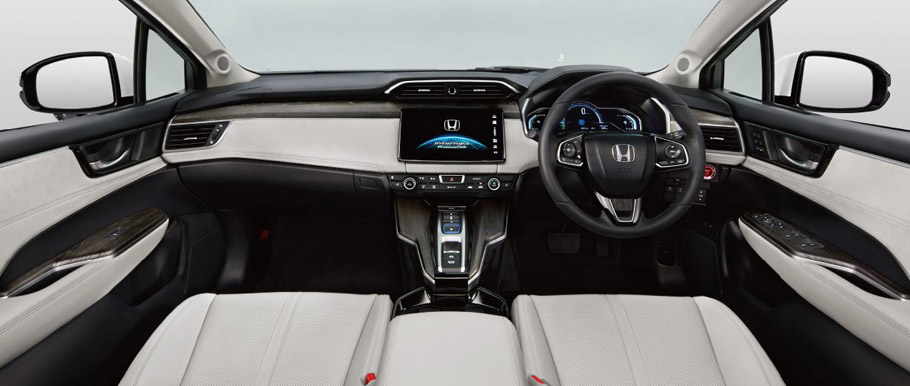 Next to the 177 hp, this car also has stunning appearance. Clarity Fuel Cell's exterior has strong aerodynamic profile, full-LED headlights up front and sharp, slender profile highlighted by the 18-inch alloys.
Inside, the hydrogen sedan combines its advanced atmosphere with refined atmosphere. The driver for instance enjoys advanced interface, which utilizes Honda's design principles of instant recognition and intuitive control. As mentioned, the interior is simple and spacious, and includes premium materials that will make sure that the occupant's experience is at its best.
Honda Clarity Fuel Cell is going to be launched in limited number in European markets next year. The hydrogen car is scheduled to be commercially available in Japan from early 2016.
Fuel cell technical specifications:
| | |
| --- | --- |
| Length (mm) | 4,895 |
| Width (mm) | 1,875 |
| Height (mm) | 1,475 |
| Occupants | 5 |
| Range per full tank (km) | Over 7001 |
| Refuelling time | Approx. 3 minutes |
| Maximum fuel cell output (kW) | Over 100 |
| Fuel stack output density (kW/L) | 3.1 |
| Maximum motor output (kW) | 130 |
| Maximum hydrogen tank pressure (MPa) | 70 |
| Energy storage method | Lithium-ion battery |
Source: Honda