Holden's All-New Sportwagon Hits The Sweet Spot Between Form And Function
Value, choice and flexibility widen market appeal
GM Holden announced today that its much anticipated VE Sportwagon range goes on sale mid-July.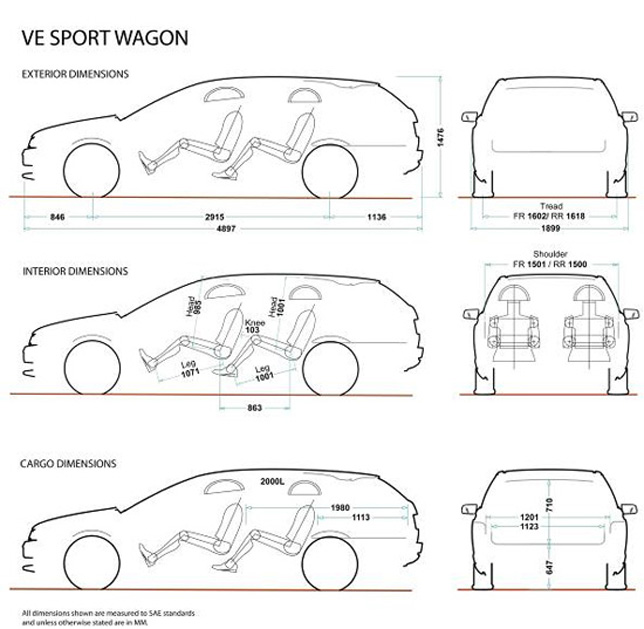 Body structure
The Sportwagon 'body in white' was developed in parallel with the VE sedan architecture program.  The result is a stiff body structure that ranks among the world's best large passenger vehicles.
The structure delivers improved ride refinement and an overall sense of safety and solidity. It also meets a stringent set of crash performance, noise, vibration and occupant safety criteria.
Torsion and bending modes are significantly increased over VZ wagon.  Un-trimmed body first modes are 44 hertz for bending and 32 hertz torsion.
Primary underbody structure (engine compartment, front floor assembly, rear rails and cross bars) are shared with VE sedan.  Also common with VE sedan are the composite spare wheel tub and the composite front end module.
More than 72 body parts are unique to Sportwagon – not including the unique lift gate and rear doors.  Sportwagon has a unique single piece bodyside stamping and the roof structure differs substantially. Other points of departure are the rear side inner structure, specific floor structure to accommodate the folding rear seat and the rear end assembly.
The Sportwagon body in white is predominantly common with VE sedan from the centre pillar forward, including front closures.
The one-piece side stamping delivers quality improvements via dimensional stability and repeatability.
The cockpit is now an integral part of the cross-vehicle structure, bringing quality improvements in body stiffness and dimensional capability
Occupant protection is maximised through multiple load paths and use of high-strength steels – 74 per cent of the structure is advanced strength steel.
Sportwagon has an all-new liftgate - redesigned for improved functionality.
The rear opening is larger, with the tailgate hinging further forward in the roof.  In order to attain high body stiffness targets, a new approach - using a ring of structural panels around the opening to create a stiff 'D-Ring' - was used to achieve this larger opening and to accommodate the swept-back sports styling theme.
There are four reinforced cargo tie-down locations in the rear compartment.
Pull-bar door handles and improved door swing contribute to lighter door-opening effort.
Doors are bolt-on for easier repair. Door seals enable consistency of finish, insulate wind noise and lessen water/dust intrusion.
Global GM system - Dimensional Technical Specification – was used to achieve 'best of the best' dimensional quality
Exterior systems
The front end module creates a walk-in front end, improving production efficiency, facilitating quality fit and finish.
Improved headlamp technology delivers better lighting for cornering, broader spread, whiter light on low beam and better high beam performance. SS V, Calais and Calais V Sportwagons have projector headlamps.
Wrap-around tail lamps are integrated into the body side; the LED stop lamp is integrated into the tailgate spoiler.
A full width rear chrome applique contains a touchpad which unlocks the tailgate and has integrated licence plate lamps.
Flat blade windscreen wipers improve wipe quality at all speeds, integrated aerofoil blade element reduces wind lift, improves acoustic performance; 'wet arm' feature improves cleaning performance.   Rear wipers are designed for improved aerodynamic performance.
An acoustic windscreen dampens high frequency noise typically transferred through windscreen to cabin. Side channels improve water management.
Roof mouldings have removable caps for roof rack attachment, providing a clean, well-integrated appearance.
Front and rear bumper fascias take advantage of new polypropylene technology and improved injection moulding techniques. Rear bumper fascia designs support differentiation between models and exhaust single and dual exhaust configurations.
One-piece rocker panel mouldings replace previous two-piece design.
Sill plates of bonded rubber and plastic materials achieve the desired zero gap to body panels.
Aluminium front and rear bumper beams have computer-tuned crush characteristics.
Interior
Sportwagon's unique rear seat design has fixed side bolsters which provide deeper contours and allow seats to be folded virtually flat. The 60/40 split flush fold facilitates loading of long objects.
Cargo area functionality is maximised by a two-position cargo blind, four load floor hooks, four quarter trim hooks, two retractable damped shopping bag hooks, a storage bin, 12-volt power outlet and a low-mounted cargo lamp.
With the rear seats folded, cargo area length (to rear of front seats) is 1980mm. With the rear seat up, cargo area length is 1113mm.
Instrument panel – 'locked down' to cross-car beam; strong, rigid component adds extra dimensional stability and integrity, improves steering column stiffness.
Further features include a burst-through passenger airbag, large glovebox.
Door bins - accommodate 600ml drink bottle.
Carpet - layered with a high-tech acoustic insulation material.
Insulator moulded to shape and attached to underside of the engine hood reduces noise from the engine compartment; large sound-deadening component behind the engine bay; acoustic package between transmission and tunnel also provides thermal barrier.
Addition of extensive noise insulation, sealing baffles and absorbent materials ensures a  car-like driving experience.
Safety systems
Significant amount of Sportwagon safety development program completed virtually - no mule or prototype stages. The major focus was on side and rear impact and rear seat integrity. More than 1500 barrier tests were performed virtually.
There were four actual barrier crash tests performed for Sportwagon – one frontal, two side and one rear.
Use of high strength steel improves structural rigidity, maximises sectional efficiency.
Clearly defined load paths minimise passenger compartment intrusions.
Side impact load paths - B pillar, instrument panel cross-beam, three floor cross-members, rocker, door intrusion beams and structural roof bow.
Rear impact - rear longitudinal rail, rocker, rear quarter panel brace and back-body pillar.
Advanced adaptive occupant restraint system: dual-stage front airbags, side impact airbags and curtain airbags; front seat pyrotechnic seatbelt pre-tensioners and load limiters. Driver and front passenger airbags inflate in two stages, according to impact severity and respective seating positions.
Further features: ride-down steering column, breakaway pedals, optimised door trim profile, active head restraint.
Chassis Dynamics
Development: 18-month, 30,000 kilometre Sportwagon-specific chassis development program on top of eight-year VE sedan program.
Primary focus - rear suspension. Rear spring rate increased over sedan, stabiliser bar diameter reduced to 12mm (from 16mm on VE sedan).  Rear suspension now includes three cross axis ball joints in lieu of two, with optimised toe link stiffness.  These changes reduce oversteer during limit handling and improve lane change behaviour.
Front suspension spring rates on Omega, Berlina, Calais and Calais V carry over from VE sedan. The sports suspension spring rate has been increased by 23 per cent.
Other front suspension tweaks give additional roll understeer. The front stabiliser bar diameter has been increased to 24mm (from 23 mm on VE sedan), resulting in an improved front to rear roll couple for the wagon, given its differing mass distribution.  This provides sedan-like limit handling balance and linear response.
Linear Control Suspension
Front - multi-link strut, with direct acting stabiliser bar. Forward-mounted steering rack and dual lower links with individual ball joints at the outer end. Hydraulically damped bush in the forward end of the tension link for improved ride isolation. Lateral link has a rubber spherical joint, providing lateral stiffness for precise handling. Front geometry features negative scrub radius, short spindle length, high castor and short mechanical trail. Fully adjustable in camber, castor and toe.
Benefits include improved road connection; better on-centre steering feel; sharper handling and improved directional stability during manoeuvres such as high-speed lane changes; desensitisation to external influences such as crosswinds and camber changes.
Rear
Multi-link (four link) independent system with coil-over shock absorbers and decoupled stabiliser bar. Major features include high lateral stiffness for handling and improved longitudinal compliance for ride, with elastic bushes fore and aft. A rubber-isolated suspension frame double-isolates the vehicle body from road imperfections and drivetrain vibrations.
Fully adjustable in camber and toe. Benefits include improved vehicle response; sharper handling; better isolation and ride comfort; reduced sensitivity to payload changes.
Omega, Berlina, Calais and Calais V: suspension biased to higher ground clearance and comfort.  SV6, SS and SS V: sports suspension for crisper handling.
Steering system
Steering rack is mounted forward of the front axle centreline; retains a variable ratio gear with 15% change from centre to lock. Provides enhanced steering feel, precision and greater driver connection to the road.
Steering efforts are lighter and benefits of forward-mounted positioning include a significantly stiffer system which maintains a degree of lateral force toe change, stabilising the vehicle on turn-in.
Stiffer structural engine sump improves engine beaming stiffness and reduces vibration input to the powertrain mounting system.
Steering ratio and valve calibration initially determined by computer analysis. Final tuning completed with a combination of objective measurement and subjective vehicle evaluation.
Brakes
16-inch package for V6-powered models.
298mm x 30mm vented front rotors; 302mm x 22mm vented rear rotors.
Twin piston compact aluminium calipers (front), single piston aluminium units (rear).
17-inch package for V8 powered models.
Shares the same calipers - attachment bracket modified to suit 321mm x 30mm vented front rotors and 324mm x 22mm vented rear rotors.
Benefits of the new system include stiffer brake pedal feel, increased fade resistance and
improved noise and vibration performance. Brake actuation - performed by a front/rear split 26mm master cylinder with a tandem 8+9-inch vacuum booster.
A brake apply sensor on the brake pedal replaces two switches, delivering noiseless operation. Pedal release system helps to reduce lower leg injuries in a frontal impact.
Bosch Electronic Stability Program (ESP®) - compares vehicle movement with the steering wheel to determine if the vehicle is moving in the intended direction. If skidding appears imminent, ESP® applies brake pressure to individual wheels as appropriate and if necessary reduces engine power.
Traction Control System (TCS) recognises rear wheel slippage and adjusts drive and brake force accordingly. Reduces wheel spin when accelerating on wet or icy roads and in 'split' conditions, e.g. when vehicle has two wheels on bitumen and two on a gravel verge.
Anti-lock Braking System (ABS) detects wheel lock-up under hard braking and reduces brake pressure at the affected wheel, improving braking efficiency and assisting the driver to maintain steering control so the vehicle remains directionally stable.
Electronic Brake Assist (EBA) maximises braking pressure to optimise performance in emergency braking situations.
Electronic Brakeforce Distribution (EBD) regulates the brake force applied to each wheel to ensure optimal balance between front and rear brakes, which helps to minimise stopping distances.
Wheels and tyres
Omega            16-inch x 7-inch alloy wheels; 225/60 R16 98V tyres.
Berlina, Calais            17-inch x 7-inch alloy wheels; 225/55 R17 97V tyres
SV6 & SS            18-inch x 8-inch alloy wheels; 245/45 R18 96V tyres
Calais V            18-inch X 8-inch alloy wheels; 245/45 R18 100V tyres
SS V                19-inch x 8-inch alloy wheels; 245/40 R19 98W tyres
All models            17-inch x 4-inch steel spare wheel; T155/80 R17 111M tyre
As for VE sedan, tyre pressure is 250kpa for improved handling precision and reduced rolling resistance.
The exception is Omega Sportwagon, where recommended tyre pressure is a 250kpa/280kpa front/rear split.  This results in similar on-centre feel and lane change behaviour to a VE Omega sedan on the base tyre.  Sportwagon models with lower aspect ratios did no require a pressure change to match the sedan handling characteristics.
Engine cradle - design delivers a stiffer, stronger structure for improved handling and noise and vibration performance. The frame adds torsional and bending stiffness to the front structure and contributes to improved overall crash performance.
Rear differential
Features include double isolation - isolation from the rear suspension frame by rubber bushes at three points and isolation from the body at four points - gear set and bearing improvements.
Multi-plate clutch limited slip differential system allows more progressive breakaway characteristics, vehicle tuning for maximum grip out of corners and improved durability.
Powertrain
V6 Engines
Lightweight all-alloy Alloytec V6 operates with advanced double overhead camshafts and four valves per cylinder. A combination of high feature technologies allows it to extract more power from less fuel, with fewer emissions.
The variable intake manifold facilitates maximum torque at low to medium engine speeds and increases power at high speed.
3.6 litre Alloytec V6
standard on Omega and Berlina (4-speed auto); single exhaust
Peak power of 180kW @ 6000rpm (up from 172kW @ 6000rpm on VZ).
Peak torque is 330Nm @ 2600rpm (up from 320Nm @ 2800rpm on VZ)
3.6 litre High Output Alloytec V6
standard on SV6 (6-speed manual); Calais, Calais V (5-speed auto); dual exhaust
Equipped with variable cam phasing on exhaust as well as inlet camshafts for increased efficiency. Electronically controlled and hydraulically actuated, continuously variable cam phasing brings outstanding camshaft operational flexibility, permitting variability of valve timing to maximise performance, fuel economy and emissions control.
Peak power of 195kW @ 6500rpm (up from 190kW @ 6500rpm on VZ).
Peak torque of 340Nm @ 2600rpm (up from 335Nm @ 3200rpm on VZ).
V6 Transmissions
Four-speed 4L60E automatic
The 4L60E four-speed automatic transmission is mated to the 180kW Alloytec V6 engine. This transmission has been developed over time to an increasingly high level of refinement.
Five-speed 5L40E automatic with Active Select
Tap up/tap down control located on the shifter. Retains performance mode liftfoot, which detects sporty driving and holds gears rather than allow upshifts. A powertrain braking feature recognises long downgrades and selects a lower gear.
Six-speed Aisin AY6 manual
Isolated shift assembly reduces transmission noise, improves comfort.  Short gear lever length provides a sporty shift feel, clutch pedal travel is reduced; an over-centre assist spring reduces clutch effort, provides sporty feel.
V8 Engine
270kW 6.0 litre Generation IV alloy V8 engine standard on SS and SS V (6-speed manual); quad exhaust
Peak power 270kW @ 5700rpm (up from 260kW @5600rpm on VZ).
Peak torque 530Nm @4400rpm (up from 510Nm @ 4400rpm on VZ) using 98 RON fuel
V8 teamed with six-speed manual transmission
Optional six-speed automatic transmission with Active Select
Calibration changes to V8 pedal map result in a smoother ramp-in of torque during acceleration, meaning more progressive power delivery and improved driveability.
V8 Transmissions
Six-speed 6L80E automatic with Active Select
Delivers world-class shift quality. It has a rigid aluminium case for low noise transfer to the vehicle and high torque capacity.
Features clutch-to-clutch shifting. For most gear changes, the clutch is engaged in one gear at exactly the time it is released in another, optimising performance.
Second gear has a free-wheeling action; second gear clutch engages while the first gear clutch spins freely, allowing greater smoothness at lower speeds.  Features performance mode liftfoot and powertrain braking.
Six-speed Tremec T-56 manual
Improvements include shorter gear ratios for improved launch feel, better acceleration and improved overtaking performance in fifth gear. There is increased synchroniser capacity in all gears and linear bearings replace bushes on shift rods inside the transmissions.
Shift efforts are reduced and shifts are faster. A fully isolated remote shifter reduces noise into the cabin and allows less vibration through the gear knob.
Shorter shift travel at the gear knob enhances ergonomics and provides a sporty shift feel. Clutch pedal travel is reduced, pedal peak effort is reduced.
Driveline and differential
The straight propshaft geometry reduces driveline angles, providing N&V improvements.  ZF double-isolated differentia increases torque capacity, improves efficiency.
Limited slip differential standard on Sportwagon SS and SS V
Heating, Ventilation and Air Conditioning (HVAC)
The system meets stringent global performance targets - operates from minus 20°C to 50°C ambient temperature and higher. Fully electric operation.  Delivers quieter mode changes and increased reliability.
Controls integrated in radio head unit.  Electronic climate control display (where specified) part of integrated multi-function display.
Linear controls - a selection of 20 fan speeds - infinite speeds when in Auto mode.
Electronic variable displacement, clutchless air-conditioning compressor enables real world fuel consumption savings and provides optimum refrigerant flow for any conditions.
Features include:
Seamless operation. Infinitely variable displacement, ramps up or down as required; can ramp almost immediately from zero to full displacement in high cooling demand situations.
Slimline washers and mini-block fittings improve durability, reducing chance of refrigerant leakage.
Straight airflow path from evaporator reduces noise, increases airflow and provides dual zone performance improvements.
Ducts
Even distribution of airflow through the ducting layout optimised by virtual analysis using computational fluid dynamics.
Side window demist has individual ducts - improved window clearing.  Heating and demisting performance in cold conditions improved; airflow to defrost/demist mode increased; heating warm-up rate improved. While in foot mode, demist operation improved with 'bleed' of some air directed to outer dash vents, windscreen and side windows.
Powertrain Cooling
Condenser Radiator Fan Module - mounting system improves isolation from body structure.
Power steering cooler integrated into the condenser - 20% reduction in fluid temperatures during power steering abuse testing.
Downflow radiator design allows better core face exposure to the air stream. Twin puller fans improve coverage of the radiator core; increases cooling efficiency and improves high speed performance.
Three fan speeds on Alloytec V6 models. V8-powered models - two fan speeds.
Electrical
GM Local Area Network (GMLAN)
This GM global system underpins all Sportwagon electrical functions and acts as the communication link between all electrical modules.
Improvements to wiring harness designs have helped to increase production efficiency.
Due to body style, routing of Sportwagon wiring is significantly different from VE sedan.
Communication speed - increased over VZ (8 kilobits per second to 33 kilobits per second on VE) – resulting in a faster and more reliable flow of information.
GMLAN benefits include: improvements in speed, quality of communication, reliability of electrical  components and feature functionality; reduced wiring.  More efficient servicing through more rapid problem diagnosis. Improved electrical architecture allows simple dealer fit of items such as telematics and navigation.
Clusters
Primary driver interface is the steering wheel controls and cluster; secondary interface is the centre console.  Larger dials, displays and fonts. Different cluster illuminations depending on model.  Night mode dash illumination – minimal functions, such as speedo, remain lit.
Full illumination turns back on automatically if a warning occurs.  Sixteen personalisation
options and functions are accessible whenever the vehicle is stationary. Include: driver's door only unlock/both doors unlock; select horn chirp when locking; setting pre-determined time for exterior lighting to remain on after exiting vehicle, etc.
Audio
All Blaupunkt audio units have phone input, auxiliary audio jack, a help button built into text screens, integrated HVAC controls, hazard switch and dynamic distortion limiting.
All models telematics capable.  Diversity system provides improved FM reception in multi-pathing conditions.
A rear roof-mounted antenna replaces the previous power mast. It reduces wind noise and is less prone to accidental breakage.  Positioning away from the engine further contributes to outstanding AM/FM reception.
Navigation – optional integrated turn-by-turn or full map navigation.
Help function - built into text screens; explains features at the touch of a button.
Bluetooth® phone interface is operated via a single steering wheel switch, interacts with the audio system for mute, volume and tone control. Microphone housed in overhead console.
Lane change indicator function – a touch of the stalk produces three flashes.
Fuel gauge accuracy is improved through extensive testing and development and the combination of a new saddle fuel tank design, two fuel sensor devices and totally new software.
Remote key
VE Sportwagon has a fixed shaft or a flip key, depending on model.
All have replaceable batteries and battery life is expected to be around five years.
A panic button on the back of both keys allows drivers to activate the horn and flash indicators if required.   A transponder embedded into the key head acts as an immobiliser, significantly improving immobiliser reliability.
Validation
VE Sportwagon benefited from the most extensive validation activity Holden has ever carried out. A specialist stand-alone validation unit formed specifically for VE programs facilitated a considerable increase in validation activities and sharpened the focus on vehicle testing.
Tests included the full gamut of durability schedules, including general, rough track structural, corrosion testing, long-term reliability and trailer tow.
Servicing
Service intervals are 15,000km or 12 months.