Hennessey GMC Yukon Denali HPE650 Runs 0-60 mph in 4.5 seconds [VIDEO]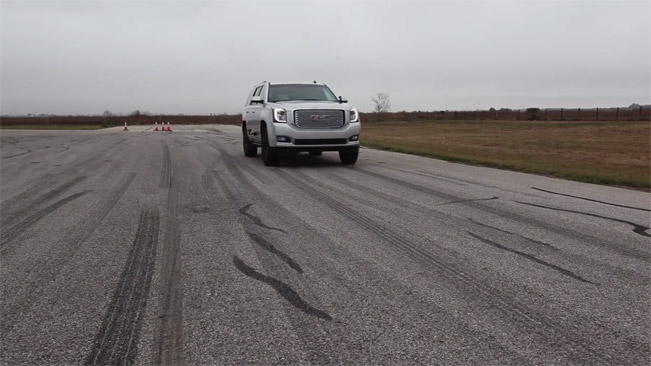 The latest video of Hennessey is exciting! Why? Because it shows how a big American vehicle can sprint as fast as some of the popular sportscars. Of course, behind this performance hides tuning company's expertise and craftsmanship. The vehicle we are speaking about is the 2015 GMC Yukon Denali equipped with the 6.2 liter EcoTec3 V8 engine. The model recently got new Hydra-Matic 8L90 eight-speed automatic transmission instead of its six-speed automatic.
With this production engine, and hence before the power-tuning, the vehicle was capable of producing 420 horsepower (313 kW) and 610 Nm (450 lb-ft) of torque. It achieves best 0 – 60 mph run of 7.0 seconds with the Four-Wheel Drive turned "OFF" and the Traction Control switched "ON".
However, when the engine of the GMC Yukon Denali was supercharged and equipped with Hennessey HPE650 upgrade, the car shows incredible results. It covers the 0 - 60 mph acceleration sprint in mere 4.5 seconds! And the video below confirms that!
To be more precise, the refinement also results in better power output: 665 hp (489 kW) at 5,500 rpm and 892 Nm (658 lb-ft) of torque at 4,200 rpm. The HPE650 supercharged upgrade includes the following: 2.9 liter supercharger and high flow intercooling system, high flow cylinder heads, HPE camshaft and engine management calibration.
Of course all of the necessary gaskets, fluids and hardware were also provided as well as the dyno tuning and road testing. To show its uniqueness the car was equipped with serial-numbered dash and engine plaque, Hennessey and HPE650 exterior badging, supercharged badging and Hennessey embroidered headrests.
Video Source: YouTube
Source: Hennessey Performance