Heico Sportiv Volvo XC90 Finally Revealed!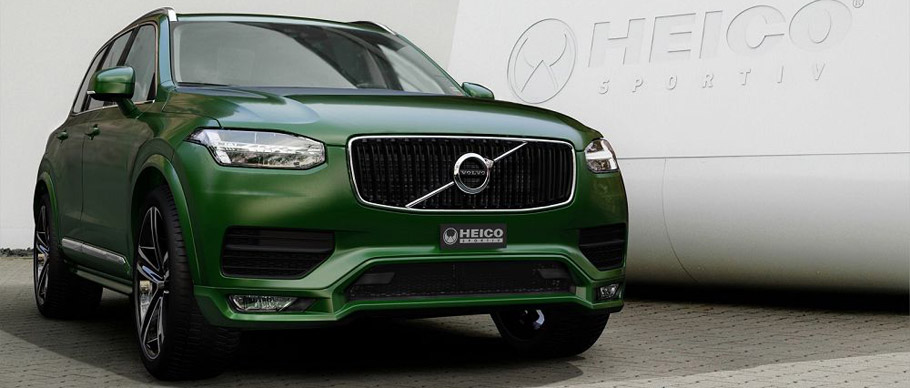 Heico Sportiv Volvo XC90 is finally here! After the teaser image we have published back in October, the company has finally made its world premiere a reality. And the waiting for it was definitely worth it. The debut actually coincides with market launch of the XC90 next Saturday. So, all who want to have a more individualized Volvo, Heico Sportiv is offering an opportunity.
As the tuner says, this is a "holistic customizing program" for the luxury car. It will feature bodykit, wheels and Selected Sound … for the engine. So here are the modifications in details:
Bodykit
When equipped with the new kit, the Volvo XC90 looks more independent and expressive. This is because Heico Sportive has integrated its components into the SUV's appearance perfectly. Precisely, the tuning pack com comprises very cool components like the PU-R-RIM front spoiler with a centric plastic lamella mesh and a rear skirt with PU-R-RIM upper section and mesh-structured PU lower section. At the rear there are also four integrated tailpipe trims.
SEE ALSO: Heico Sportive Teases Custom Volvo XC90
The aforementioned rear skirt can be also fitted with the standard end muffler or an in-house made exhaust system with Selected Sound. The last feature is an option and it offers expressive audio for the engine. Here's more to that.
V8 Sound for Volvo XC90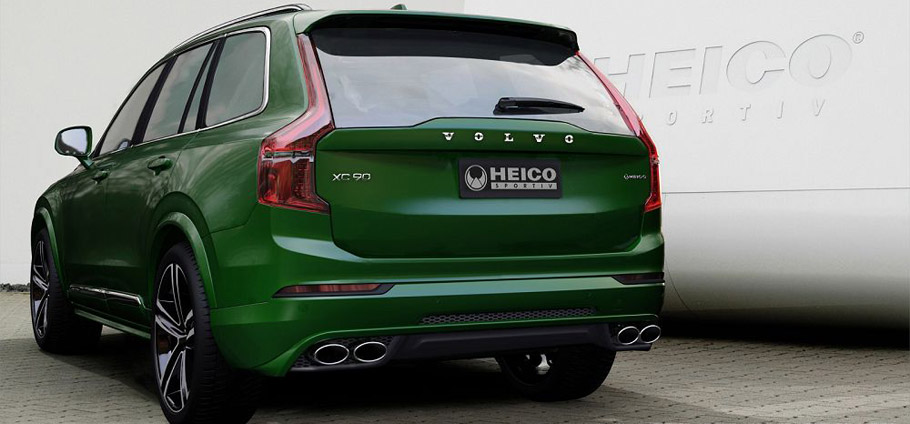 Selected Sound is a product, which improves the new Volvo Engine Architecture (VEA) engines' purr, since Volvo has decided on downsizing strategy. It is actually an in-house developed sport exhaust system, which features integrated subwoofer. The e.motion controller and vehicle-relevant data are forwarded from the CAN-BUS to a sound processor with amplifier.
As a result the tuners achieved V8 sound for the engine. What is even better, the drivers can choose between standard, unobtrusively sporty and pure V8 sound. This fantastic feature will be initially only be available for the VEA T6 engine.
Wheels

Heico Sportiv will give the Volvo XC90 even sportier and more aggressive looks due to the addition of 23-inch forged wheels. This is one inch larger than the biggest wheels in Volvo's line-up. In addition, the forged wheels are also 15% lighter when compared the conventional cast wheels.
The design of the wheels features ten clear-cut, elegantly curved spokes that melt away deep inside the rim. Called VOLUTION X. FORGED, they can be optionally mated to 315/25 R23 ContiSportContact 5P tires.
For those wanting to keep the 22-inch size, Heico Sportiv is offering VOLUTION V. sport wheel with timeless five-spoke design. These wheels are perfectly coupled with 285/35R22 tires and can be specified in Black Diamond Cut and a warm titanium color tone.
Engine Uprates & More
Heico Sportive is also offering e.motion performance enhancements for D4, D5, T5 and T6 engines, exhaust systems, lowered suspension and leather upholstery of the interior. There are no details about engine's output. And this is definitely where we are impatient to get more information.
Source: Heico Sportiv