Global debut for Aston Martin V12 Vantage Roadster
Aston Martin V12 Vantage Roadster is the new sports car by the famous British brand which will be available for only limited number of customers because it comes out as a limited edition model.
It comes equipped with the astonishing power of Aston Martin's naturally aspirated 6.0-litre V12 engine that will offer the lucky drivers the thrills of Vantage Roadster driving experience. The V12 is mated to a six-speed manual gearbox, and hence is able to produce 517 hp (380 kW) at 6,500 rpm and a muscular 570 Nm (420 lb-ft) of torque at 5,750 rpm.
It is no surprise then that the 0-62 mph sprint is dispatched in just 4.5 seconds. The top speed here is 190 mph.
Furthermore, the new Roadster includes modified rear boot lid and lower front air intake to maintain a level of dynamic performance that's fully in keeping with the V12 Coupe. In addition redesigned are also the rear damper set-up, front and rear damper valve tuning and a new rear spring design. The outstanding performance of the vehicle is improved additionally by the Pirelli P Zero Corsa tyres.
Some other stylish characteristics of the car include: carbon fibre side strakes; a carbon fibre front splitter and rear diffuser; carbon fibre mirror caps and carbon fibre rear lamp infills; new forged alloy wheel design.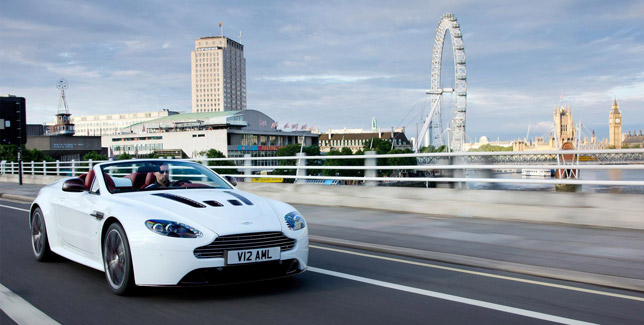 The interior includes some new features as well. For example, there are subtle additions as the use of glass switches in the lower centre stack. They give more luxurious ambience to the Vantage Roadster cabin.
What is more here is the unique feature of the V12 Vantage's which the engine's "Sport" mode button is. What it does basically is to enables the driver to select between two different powertrain modes.
When in Normal mode, which is active as soon as the car starts working, the Roadster has not only a more relaxed throttle response but also a quieter, more refined exhaust note.
On the other hand, the Sport mode is made for more dynamic driving situations where sharper responses are required. Thanks to it the car has sharper throttle response, with the engine delivering more torque during the early stages of throttle pedal travel.
Aston Martin V12 Vantage Roadster pricing starts at £150 000 RRP.
Source: Aston Martin