Premiere at Geneva: Carlsson Mercedes ML CD35
We can't get enough of Carlsson and luckily, they seem to be unable to stop churning out projects. So in this latest win-win situation, we welcome the Carlsson ML CD35 – It's based on the current Mercedes-Benz M-class (W 166) and will premiere at the Geneva Motor Show this week. 22-inch wheels, suspension tweaks, an aerodynamic package and a performance package all highlight the Carlsson mark on the luxury SUV.
To start off, we have a new look that can only accent the already aggressive stance of the M-Class. A new front apron and dual headlight modules with LED daytime running lights, give the front a typical Carlssonish feel. The mesh inserts withing the bumper, are from an electro-polished stainless steel and so is the main radiator grille. Some sikdeskirts also complement the whole kit and a rear apron and a set of exhausts adorn the back end. Although, we can't be sure of that until Carlsson fully reveal the ML CD35.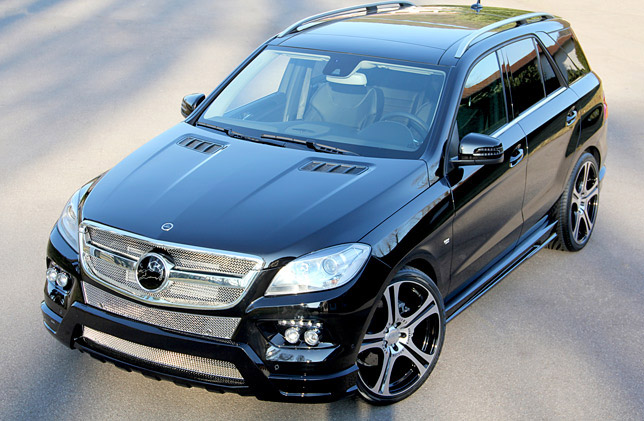 In terms of performance, the standard W166 that has gone under the knife has a 3.0 liter V6 BlueTEC 4MATIC diesel engine that develops 190 HP 680 Nm of torqe. Carlsson have taken that power up to 310 HP and 700 Nm thanks to a C-Tronic supplementary control unit. It's not just brute power extraction that violates the engine. Rather, the C-Tronic thing cleverly monitors all temperature, emission and rpm reading and shuts off when it senses that the engine has reached a wear-and-tear zone. Soon enough, there will be even more performance tweaks available for the CD35 from Carlsson.
In order to make you even more dependent on your iPhone, the C-Tronic Carlsson suspension provided is linked to an application that allows remote control. Feel free to rise up or lower the CD35 whenever you like. As long as your phone battery isn't dead. By default, the Carlsson M-class is around 30 mm lower than standard and sits on 10 x 20-inch, light alloy wheels with Carlsson 1/5 Revo design. At the Geneva Motor Show, five-spoke wheels in the Brilliant Edition and Dark Series surface finish will be installed.
The interior has been delicately altered with the help of illuminated door sill panels imprinted with Carlsson lettering, Carlsson door pins, and a footrest plus pedals made from aluminum.
Source: Carlsson