Game on: Volvo FH Truck Racing Against Koenigsegg One:1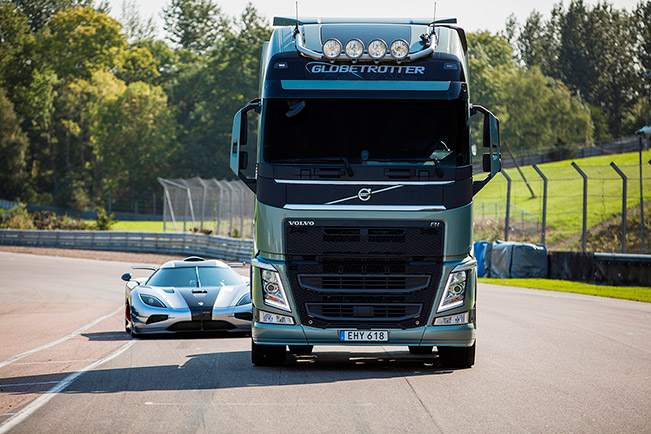 Setting a massive eight-tonne Volvo FH against one of the fastest cars around the world, precisely Koenigsegg One:1, may sound a bit like a joke. Except that it is not. The question though is why? If it is for the spectacular part, no doubt it is going to be spectacular. Not every day you can see Hulk against The Flash! Nevertheless, the main reason for this "rivalry" is to test, once again, the I-Shift Dual Clutch gearbox fitted to the Volvo truck, and see if the FH can cover one lap of the Knutstorp race faster than the Koenigsegg can cover two laps.
Five red lights. They come on. They go off. And start! Now this is going to be one hell of a race!
The two vehicles set off and as they do so, Koenigsegg One:1 is already cutting the air with its high speed. The truck, on the other hand, is left to bite the dust behind. We can admit that looking at the video, we can see the Volvo truck struggling just a little bit… or more. Still, the performance makes the hair on your neck stand up. You nearly won, Volvo FH.
To clarify some of the vehicles' characteristics, Volvo FH tractor unit delivers 540 horsepower and is equipped, as already pointed out, with I-Shift Dual Clutch. The functionality of its speed limiter has been previously removed in order to give the truck a slightly better chance against its opponent. Thanks to this, Volvo FH reached a speed of almost 130 km/h (80 mph) on the track race. Despite the slight helpful push, it is all about fair play after all, the outcome is still unpredictable.
The Koenigsegg One:1, on the other hand, is noted as one of the world's mega-hyper-super-fast cars. Its name One:1 derives from the power 1360 PS and weight 360 kg. The exact ratio of 1:1 is a combination that no other sports car manufacturer has managed to achieve ever before. The engine of this Koenigsegg produces more than 1000 Nm of torque between 3000 and 7500 rpm and is capable of 0-100 km / h (0-62 mph) in less than 2 seconds.
Source: Volvo Trucks