Galpin Auto Sports has Prepared Monstrous Custom Acura TLX for SEMA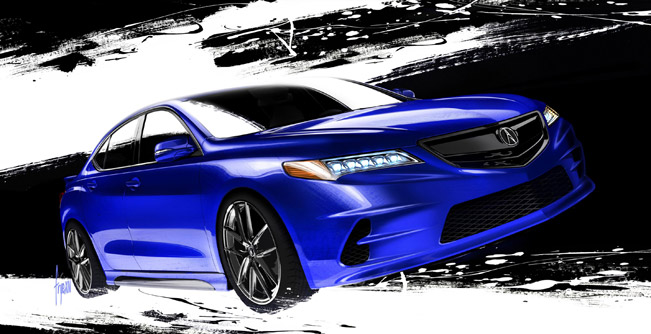 Two exclusive sketches of the Galpin Auto Sports Acura TLX were just released, showing one of the SEMA entries of the Japanese company. The TLX model will be displayed in three distinctive variants. The aim is to express the customization potential of the car and its performance character. The tuning company chosen for this task is Galpin Auto Sports (GAS) that makes a debut at the TLX. GAS TLX will be joined by the twin-turbo TLX GT Race Car, jointly developed by Honda Performance Development (HPD) and RealTime Racing, as well as a 2015 Acura TLX with the Genuine Acura Accessory package.
As you can see on the pics below, the sedan includes custom exterior styling and chassis modifications. Galpin TLX has a new signature Acura brand color, called Andaro Blue. Main modifications here are the custom aero body kit with new front and rear bumpers, side skirts and deck-lid spoiler, the custom exhaust outlets as well as the RSR Sport SI Series suspension kit with fully adjustable coilovers featuring 36-way damping adjustment.
The exclusiveness of the car is further strengthened by the special ADV5.0 M.V2 SL custom wheels in the size of 19x9 +38 at the front and 19x9+35 at the rear. The alloys are coupled with Pirelli 245/40/19 P Zero Tires and come equipped with Wilwood Superlite 6 Piston Caliper with 14" Vented Rotor Front and Rear Brakes
Acura TLX GT Racecar is brand's second entry. It was developed from the production by Honda Performance Development (HPD) and RealTime Racing. This means that it features HPD chassis and aerodynamic performance parts approved for Pirelli World Challenge GT-class competition. The power of this Beauty comes from its direct-injected twin-turbocharged V6 engine, which was also developed by HPD from the normally aspirated production engine.
At last, the TLX with Acura Genuine Accessory package is equipped with factory accessories developed specifically for this model. We are speaking about the Aero Kit that comprises of front, rear and side underbody spoilers, decklid Spoiler, chrome door trim, new floor mats and illuminated side sills. Not to mention the 19-in Diamond-Cut Alloy Wheels fitted with Michelin tyres in the dimension of 245/40R19.
Source: Acura