When one 600HP BMW is not enough, you make two of them!
G-Power BMW M3 (F80) and M4 (F82) deliver 1,200 hp combined output!
G-Power is one of the main companies out there which specialize in BMW tuning. There is no doubt that by doing so they make the enthusiasts happier than before. Adding to the excitement is the fact that the experts usually work with the M-Series… Just like in their latest project, which is an interpretation of the latest BMW M3 F80 saloon and the brand new M4 F82 Coupe.
Basically, both cars deliver a combined output of 1,200 hp, which means that the exact force of each BMW is 600 hp. To asses this achievement at its worth, we should mention that the cars are powered by the twin-turbo 3.0-litre unit, which produces as a standard 431 hp (317 kW) and 550 Nm (406 lb-ft).
SEE ALSO: Do not fear the Typhoon! Praise it! Meet G-Power's BMW X6 M
You are now asking (probably), how the +169HP and the +190Nm were achieved. And to keep you off from the boring details, you should only know that the G-Power specialists have used their bespoke Bi-Tronik 2 V3 module. Also helping to increase the force are the larger diameter exhaust downpipes, which come without catalytic converters. The addition of the ultra-lightweight titanium exhaust system with carbon-fibre tailpipe ends also reduce the back-pressure.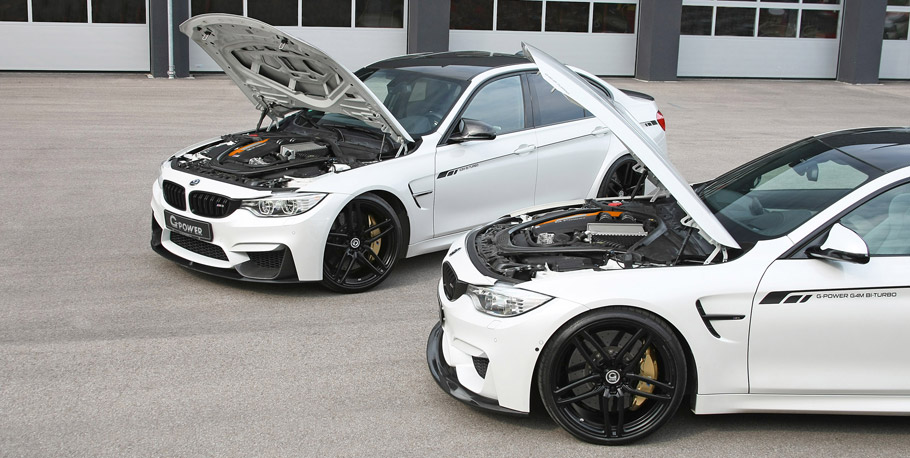 How does this dramatic increase of power affect the performances of the M3 and M4? In terms of acceleration, the benchmark 0-100 km/h sprint is slashed to just 3.7 seconds. In other words, this is 0.5 seconds faster than stock. The top speed was unleashed via recalibration and now reaches over 320 km/h.
Chassis balance was also on the "to do list", hence the fully adjustable GM4-RS coil-over suspension was added. The aero components couldn't be avoided too, so here we see RS front spoiler, CS front splitter, rear diffuser and boot mounted spoiler. The latter only comes for the M4 Coupe.
Last but not least, a set of G-Power HURRICANE RR lightweight forged alloys, sized 21-inches and shod with high performance tires, fill out the big arches and complete the menacing new appearance of both BMWs.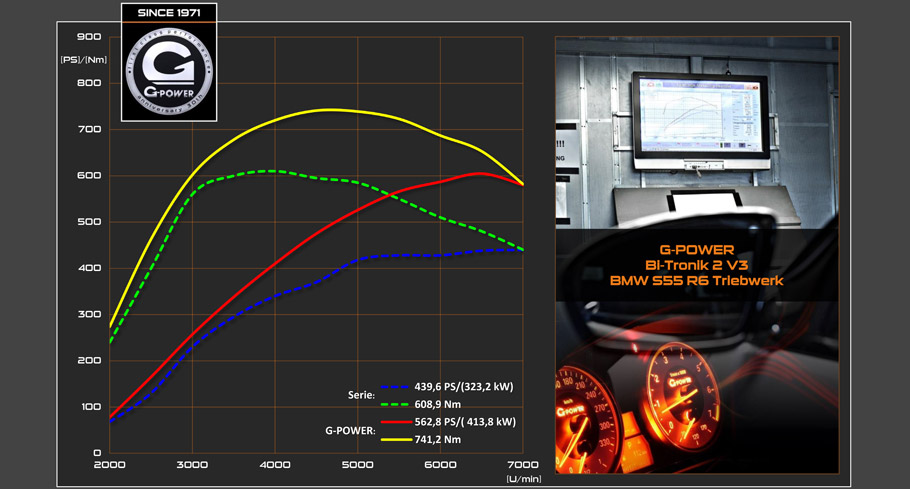 Source: G-Power