Frozen Black Edition BMW E92 M3 by iND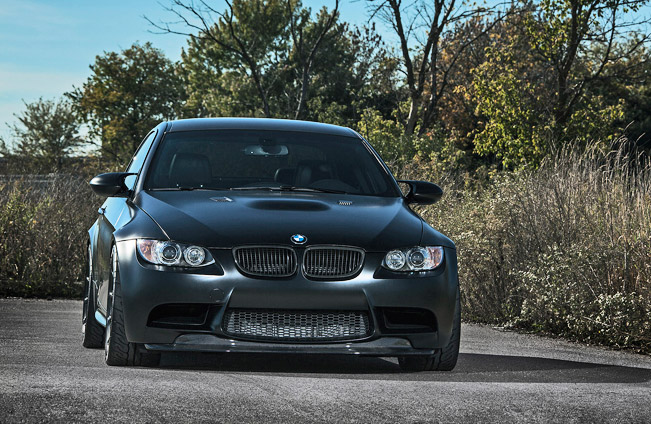 Two years ago, BMW introduced a very special model. In fact, it was so special that its production was limited up to 20 units, and as some of you might have figured it out – this was the 2011 BMW E92 M3 Frozen Black Edition. The model was distributed only throughout the U.S. market.
Now year is 2013 and the tuners at iND has got the luck to enhance the powerful Frozen Black M3. The standard specifications of this BMW include matte black exterior with gloss black accents, red calipers and 19" GTS alloy wheels.
On the other hand, the standard features in the interior include Novillo leather upholstery, red contrast stitching, carbon fiber trim with leather accents, heated front seats and premium audio system.
The powertrain under the hood of the car is the 4.0 liter naturally aspirated hi-revving V8, which is capable of producing 420 horsepower (309 kW) and 400 Nm (295 lb-ft) of torque. The unit is coupled to M Double Clutch Transmission (M-DCT), thus an effortless acceleration is ensured. To be more precise, the vehicle accelerates from standstill to 100 km/h in 4.5 seconds and has a top speed of 250 km/h (155 mph).
The tuners at iND had the strength to make even better this exclusive model by adding some sophisticated features. First of all, they have taken care for the wheels of the car, which now are the HRE P43SC E9x M3 Satin Black Wheels that come in sizes 19×9.5" at the front and 19×10.5 at the rear.
They have also included Akrapovic EVO with carbon tips, ESS Direct flash and Vorsteiner's Type II carbon diffuser. The ground control is ensured by E9x M3 camber plates. At the front three were added euro front bumper painted Frozen black, carbon front grilles. The same material can be seen at the side grilles which in addition feature Dark LEDs.
What is left to mention here is the special iND Frozen black key hole cover, the included Macht Schnell 75mm Stud Kit and black chrome Project Kics R40, the RKP GTS front lip in Gloss carbon and the premium BMWPedals.
Source: iND