Ford's New Smart Intersection 'Talks' To Cars To Help Reduce Collisions
Ford Motor Company researchers today unveiled one of the first privately funded "smart intersections" in North America, a key step toward leveraging GPS technology and wireless infrastructure-to-vehicle communications to reduce traffic accidents and ease congestion.
The smart intersection, established near Ford's Research & Innovation Center in Dearborn, communicates with specially equipped test vehicles to warn drivers of potentially dangerous traffic situations, such as when a vehicle is about to run through a red light. The intersection is outfitted with technology that can monitor traffic signal status, GPS data and digital maps to assess potential hazards, and then transmit the information to vehicles.
Once the in-vehicle computer receives data indicating a potential hazard, it can instantly warn drivers through visual and audio alerts.
"Ford has the most five-star safety-rated vehicles than any other automaker and we want to build on that by offering smart active safety solutions for drivers," said Dr. Priya Prasad, Ford safety technical fellow.
The smart intersection project will accelerate Ford's research into proprietary "active safety" technologies as it continues development of a common architecture and standards for smart intersections together with General Motors Corp., Honda Motor Co., Daimler AG, Toyota Motor Corp., the federal government, and local and county road commissions. The joint public-private effort is known as Crash Avoidance Metrics Partnership (CAMP).
"New technologies such as wireless communications and GPS-enabled navigation systems may enable us to offer more safety features in the future," said Jeff Rupp, manager, Active Safety, Research and Advanced Engineering.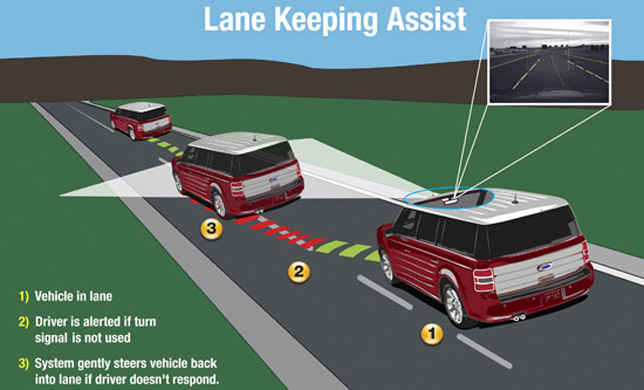 The active safety initiative comes as research shows that 40 percent of all traffic accidents and 20 percent of crash-related fatalities occur at intersections. The issue is expected to become more pressing as the global population migrates to large urban areas. The U.S. National Intelligence Council predicts about two-thirds of the world will be living in city regions by 2015, up from 50 percent today.
According to National Highway Traffic Safety Administration (NHTSA) data for 1997-2004, 84 percent of fatalities in signalized intersections and 37 percent of fatalities in stop sign junctions occurred in urban settings.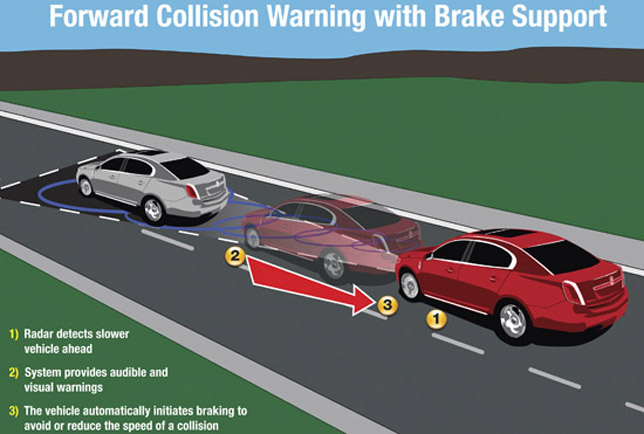 Ford's new smart intersection transmits several pieces of data to the test vehicle, including a digital map of the intersection, six additional maps of surrounding stop sign intersections and crosswalks, lane-specific GPS location, as well as traffic light status and timing information.
Once the information is received, the vehicle's collision avoidance system may be able to determine whether the car will safely cross the intersection or if it needs to stop before reaching it. If the system determines the need to stop and senses that the driver is not decelerating quickly enough, it issues visual and audio warnings to the driver.
"This technology has the potential to augment vehicle navigation systems to enhance safety by helping people who are distracted, drowsy or cannot see the traffic light due to a visual obstruction," said Joe Stinnett, lead technical engineer, Active Safety Research and Advanced Engineering. "Our research is helping to identify the kinds of warnings that drivers may find both more effective and easier to understand."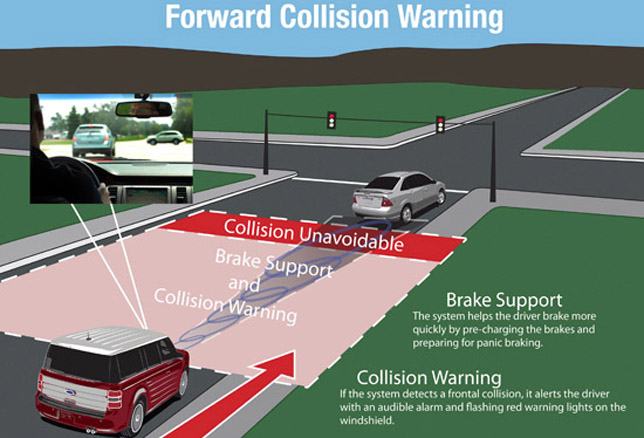 Infrastructure-to-vehicle communications could directly ease congestion by reducing crashes. According to the Texas Transportation Institute's 2007 Urban Mobility Report, traffic congestion continues to worsen in American cities of all sizes, annually wasting nearly 3 billion gallons of fuel as recently as 2005 - that's 58 fully-loaded supertankers. According to TTI analyst David Schrank, approximately half of traffic delays are caused by accidents, breakdowns and road debris.
A vehicle equipped with a collision avoidance system could act as a traffic probe, and communicate its presence and travel history when it encounters a smart intersection, said Mike Shulman, technical leader, Ford Active Safety Research and Advanced Engineering. Such capability could complement a feature already available on Ford Motor Company vehicles, SIRIUS Travel Link, which combines real-time traffic speed and flow data by satellite with accident and incident information to allow the user to navigate around congested areas.
"If smart intersections were widely available, such traffic information could be combined with information from other vehicles and would complement and enhance the information that Travel Link already provides," Shulman explained. "It could even include future vehicle travel, based on a destination entered into the navigation unit or past trips."
Ford's Active Safety Research team is quick to point out that while the smart intersection is an excellent tool for developing collision avoidance systems, broad deployment of dedicated short range communications capability will require significant public funding.