Ford's Latest Safety Brakethrough – Collision Warning With Brake Support – Coming in 2009
Ford Motor Company, building on its safety and technology leadership, announced it will offer a new advanced "active" collision-avoidance technology, Collision Warning with Brake Support, on certain Ford and Lincoln vehicles next year.
Collision Warning with Brake Support uses radar to detect moving vehicles directly ahead.  When the danger of a collision is detected, the system warns the driver with an authoritative beep and a red warning light projected on the windshield above the instrument panel.  The system also automatically pre-charges brakes and engages a brake-assist feature that helps drivers quickly reach maximum braking once the brakes are engaged.
Collision Warning with Brake Support is one of three new radar-based active safety and driver-aid technologies Ford is launching across a range of vehicles in 2008 and 2009.  The others are Adaptive Cruise Control, launched this year, and BLIS® (Blind Spot Information System) with Cross Traffic Alert, which debuts in 2009.  All three features use radar to detect the relative position of other vehicles and warn the driver with a combination of visual and audio alerts.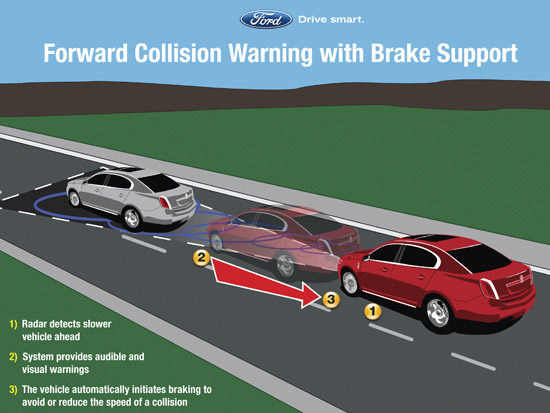 The new technologies build on Ford's leading number of top safety ratings, including the most 5-star government ratings of any automaker, and a leading number of Insurance Institute for Highway Safety "Top Safety Picks."
"The new Collision Warning with Brake Support technology puts us on the leading edge of active safety to help customers detect and avoid possible dangers," said Paul Mascarenas, Ford vice president of engineering, Global Product Development.  "Ford will be the first to offer this technology on mainstream models that many families can afford."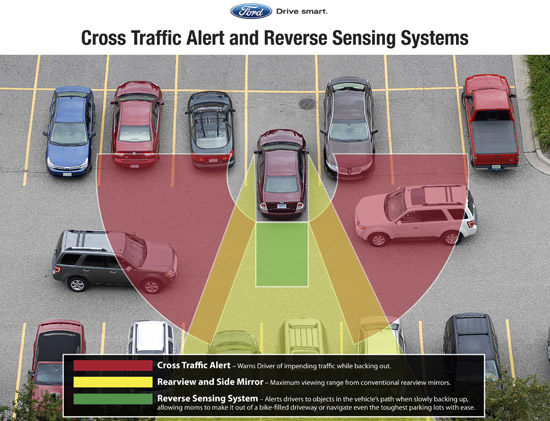 Unexpected detected
Collision Warning with Brake Support builds on the basic function of Adaptive Cruise Control, a driver-assistance feature that Ford introduced on the 2009 Lincoln MKS.  Adaptive Cruise Control uses radar to detect moving vehicles immediately ahead and modify cruising speed if necessary.
"Adaptive Cruise Control really marked the beginning of pre-emptive driver-assistance systems," said Jerry Engelman, Adaptive Cruise Control supervisor, Chassis Electronics.  "Ford was able to use the radar technology and experience to develop the Collision Warning with Brake Support system."
Research indicates that Collision Warning with Brake Support could be particularly helpful in warning a driver who is distracted or drowsy.  According to the National Highway Traffic Safety Administration (NHTSA), the majority of accidents involve driver inattention.  The agency's research found that one extra second of warning could prevent up to 90 percent of rear-end collisions.  CWBS offers three programmable alert settings ranging from approximately 1.5 seconds to 2.5 seconds.
"It depends on the user's preference, because one person's false alarm may be another person's near miss, and it's important that drivers are comfortable with the system," said Tom Pilutti, technical expert, Ford Research and Advanced Engineering.  "Some people have a slower reaction time, and the longer time setting may meet their needs better than the shorter setting. Our research shows that most drivers will prefer and feel more comfortable with the longer default setting."
According to the Insurance Institute for Highway Safety, forward collision warning systems like Collision Warning with Brake Support have the potential to help prevent the kind of rear-end crashes that occurred 2.3 million times per year from 2002-2006 – almost 40 percent of the total crashes reported to police each year in the U.S.
Clearer sight with science
BLISTM (Blind Spot Information System) with Cross Traffic Alert can help provide extra confidence to drivers in parking lots by alerting drivers sooner of nearby traffic while backing out.  It uses two multiple beam radar modules, which are packaged in the rear quarter panels.  The radar detects moving objects within a 65-foot range from either side of the vehicle.  The radar identifies when a vehicle enters the defined blind spot zone and illuminates an indicator light on the corresponding side-view mirror providing a warning that a vehicle is approaching.  An audible alert is sounded as well.
Researchers at Ford's North American advanced driving simulator, Virtual Test Track Experiment (VIRTTEX), dedicated most of the past few years studying how active safety technologies in vehicles may better alert drivers of potentially dangerous driving incidents.
"New technologies such as radar, cameras, lasers and GPS may enable us to offer more safety and convenience features in the future," said Jeff Rupp, manager, Active Safety, Research and Advanced Engineering at Ford's Research and Innovation Center.  "A key is identifying the kinds of warnings that drivers will find both more effective and easier to understand."
For Collision Warning with Brake Support, VIRTTEX researchers learned drivers respond more quickly to certain audible alerts that are more authoritative.  Their research also shows some preference for a combination of warnings – audio alerts backed up by a visual warning – such as those that will be offered with Collision Warning with Brake Support system.
Safety in demand
Vehicle safety technology is second only to fuel efficiency on customers purchase consideration lists, according to a recent study by RDA Group Global Market Research of Bloomfield Hills, Mich.  According to the research, among consumers' top desires for safety features are collision warning and prevention, greater traction controls, entrapment prevention, and vehicle-to-vehicle communications.
"Over the past several years we've seen drivers' attitudes change regarding safety technology," said Jim Thomas, senior vice president, RDA.  "It used to be that they didn't want to release control of the vehicle at all, but now they're looking for the vehicle to be more proactive."