EuroNCAP - Best in Class Cars of 2011 [videos]
Here are the safest cars according to EURO NCAP in five different categories. The top achievements per category are:
•   Small off-road 4×4 category: Audi Q3 •   Supermini category: Chevrolet Aveo •    Small Family category: Ford Focus •    Small MPV category: Mercedes B Class •    Large Family category: Volvo V60
The runners-up in each category are the Chevrolet Malibu, Mercedes M Class, Toyota Yaris, Lexus CT200h, Opel Zafira Tourer, Hyundai ix20, and BMW X1. Special mention should be made of the Ford Ranger, the only pickup tested by Euro NCAP in 2011. The Ranger is the safest pickup yet tested by the organisation and scored highly in all areas of assessment, most notably in pedestrian protection.
Euro NCAP rewarded several car makers for their advanced safety features not yet included in the rating scheme. The Ford Focus, offered with optional Active City Stop, Driver Alert Forward Alert and Lane Keeping Aid, made headlines as the first high volume car receiving four rewards. Top achievers Mercedes B Class and Volvo V60 also were rewarded for Collision Prevention Assist and City Safety respectively, both are Autonomous Emergency Braking Systems (AEB).
"With Euro NCAP Advanced, we have already recognized a number of technologies offering safety benefits to consumers. The safety case for AEB systems is very strong and we are therefore strongly encouraging manufacturers to increase the availability of such systems on new cars. We are well underway to add the assessment of these systems to the overall rating and to make these systems a requirement for five stars in the future.", commented Dr Michiel van Ratingen, Euro NCAP Secretary General.
In 2012, Euro NCAP introduces stricter standards by increasing the minimum score in the pedestrian assessment from 40% to 60%, reflecting the stepwise improvements introduced by automakers of the last years in this field. While a number of carmakers have already demonstrated that cars can be engineered to pass the new limit, the increased demands will challenge others to improve the safety for vulnerable road users.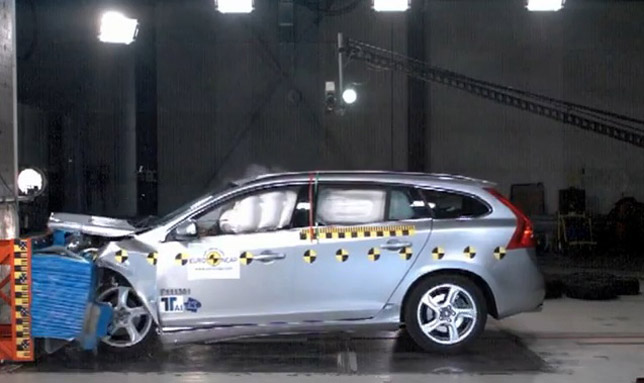 Source: EuroNCAP via Youtube