DMC Releases Rather Strange "LOVE" Rolls-Royce Ghost SaRangHae

DMC has just tuned a Rolls-Royce Ghost, which eventually received a very special name and was commissioned for a very important person. It seems that the (so called) "stars" of the East like to dwell and be transported in luxurious limousines… but hey, who doesn't? The difference between us and them is of course the money, and when it comes to $cash$ many seem to brake loose. Vanity comes in many forms and almost always affects the personal accessories.
The case with this gorgeous white Rolls-Royce Ghost is pretty much described above. The star for whom it was commissioned is the so called The Asia Prince or Jang Keun Suk, a Korean based singer, who obviously has some resources to spend. And things quickly escalate, when one understands that the car has been named with the pompous "SaRangHae" (사랑해), meaning literally "love".
SEE ALSO: DMC Shows Winged Huracan LP610 Cairo Edition 
Whether "the strongest feeling of all" is the best name for such project, I would rather remain silent. A very pleasant fact about this car is that the DMC tuners did not overdo it, meaning that they kept the "job" simple.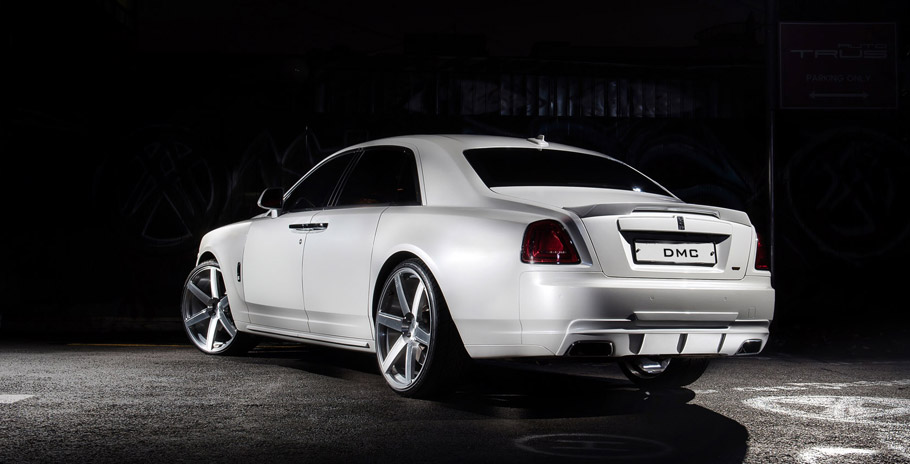 And so it is. We only see minor trim changes on the front fascia, straight lined skirt in line with the original design at the sides, and a rear with a brand new trunk spoiler and diffuser. Good news is that under the hood the modifications have been stronger, thanks to the ECU tuning and high performance exhaust system.
Due to these changes, the twin turbo V12 adds the substantial 70 PS and 80 Nm, making it possible for the Rolls-Royce produce a total of 650 HP and to accelerate from 0 to 100 km/h in 4.5 seconds. The top speed was increased to 295 KM/H.
New shiny and huge wheels are almost preliminary, especially when it comes to "star"-tuning. The 24-inched diamond forged rims fitted with Pirelli tires here carry the DMC Rolls-Royce Ghost SaRangHae. For this size, the tuners actually had to modify in the wheel housings to ensure a continued smooth ride and steering ability. (But let me reveal you a practical matter: bigger wheels won't make you look cooler, so keep that in mind).
Although Jang Keun Suk did not allow DMC to publish the interior (which I'm sure will be as magniloquent as possible), they disclosed that was adorned with Italian leathers, rare materials like Sting Ray and a lot of carbon fiber. Nothing surprisingly unusual.
If you dig this project, then the videos below will show you more about it. Enjoy!
Video Source: YouTube
Source: DMC