DMC Touch Up The Rolls-Royce Ghost Calling It The Imperatore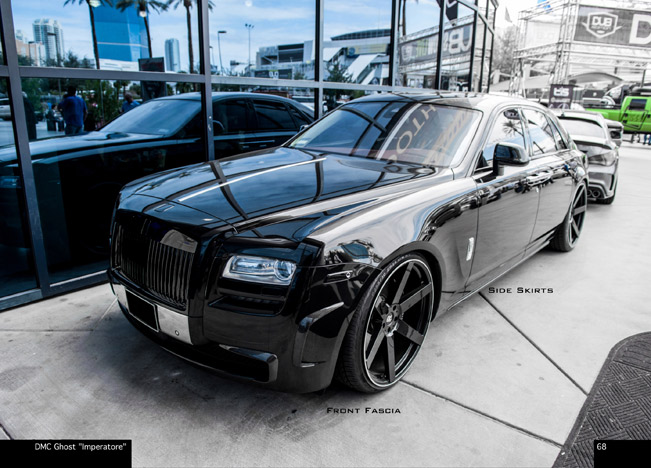 The guys from DMC Luxury have laid their hands on a Rolls-Royce Ghost and have called it the Imperatore. Because of the British icon's remarkable success on the market, DMC claim that it is now beginning to lose its distinctive character. So, there they are offering a helping hand to reclaim special feel again.
Imperatore is an appropriate name for a thing of luxury which the Ghost undoubtedly is. They started off with some glue-ons. Scratch that, it doesn't sound too luxurious. Let's just say that additional components complement the overall vista of the so-called baby Rolls. There's a front lip spoiler, straight lined side skirts, a trunk spoiler, and a rear trim over an added diffuser. The key point here, however, is subtlety. Everything is color coded so only the keen eye can really see the difference. Maybe that's why the pictures contain subscript.
A non-specified brand of 22-inch tires with Pirelli tires complement the whole makeover, while a high-performance exhaust system provides the right tone and amps the power a bit. An ECU tweak further enhances the V12's punch. As a final summation, the Imperatore yields 70 hp and 80 Nm of torque more than it would usually do. That's 632 hp and 860 Nm good for a 0 to 60 time of 4.5 seconds.
Inside, the interior is subject to change. There are Italian leathers available, rare materials like Sting Ray, and carbon fiber trims that can be applied whenever you want them.
Source: DMC