DMC Ferrari Berlinetta F12 SPIA Spotted In Hong Kong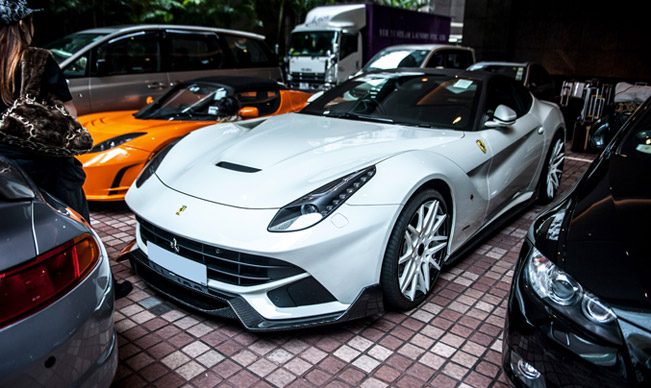 The luxury tuning experts at DMC are now gaining popularity in China, and the proof for this is that a DMC Ferrari Berlinetta F12 SPIA was recently spotted in Hong Kong and captured by the photo wizard Linus Lam.
The DMC F12 SPIA has unique white exterior, which makes perfect contrast to the DMC carbon fiber kit which was installed at a later time. In fact, the refinement gives the Ferrari even more aggressive look and improved aerodynamics.
To go into details, the front diffuser was substituted with a prominent new lip splitter. The latter extends the car and also enhances its road stability. Next, the front hood was entirely replaced with a carbon fiber version. An optional roof scoop is also visible here and it definitely contributes towards DMC's F12 bolder appearance.
What is more, the extended side skirts add to improved road stability, because they utilize a pair of diffuser plates. They also feature flaps which go in harmony with those found on the front diffuser. The trunk has received a 599XX spoiler wing, which goes well along with the newly designed rear diffuser.
Inside, the package is finalized with an interior refinement. DMC has used here Italy's finest leathers and carbon finer. Plenty of buttons and trims and a redesigned steering wheel are also present.
Source: DMC