Caterham R500 made from LEGO bricks
There is almost no one, who doesn't heart about the outrageous Caterham R500. It became so famous with the times, which this superlight car achieved over the racing tracks.
Top Gear didn't miss to test drive it and The Stig come round the track in 1.17.9, which is 5 fastest time on Top Gear's Lap board (below). This small impressive car captured the hearts of millions motor sport fans across the wolrd.
Because of those fact the designers in LEGO decided to immortalize this car by making it from coloured bricks.
The newest attraction in LEGOLAND is a scene, where Jeremy Clarkson, Richard Hammon, James May and The Stig can be seen around the Caterham Seven in a motorsport-themed area.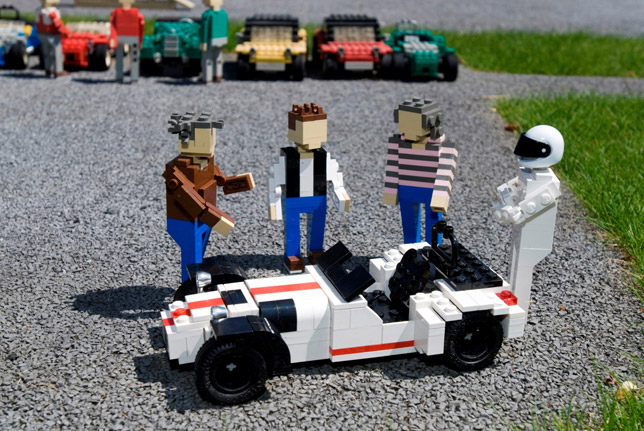 In typicall Top Gear style Caterham 7 was awarded for outpacing Bugatti Veyron, which is costs around 25 Caterhams. (Caterham – £37.995, Bugatti Veyron - £925,000)
LEGOLAND'S chief model maker, Guy Bagley, said: "My colleague remembered that the Stig had put the R500 through its paces and how incredible it was on the track. It's such a timeless and iconic car that it was a 'no-brainer' as our choice for the motorsport area, having already decided to feature Top Gear. Its design lends itself particularly well to our bricks, too.
*Top Gear Power Lap board
| | | |
| --- | --- | --- |
| 1. Gumpert Apollo | 1.17.1 | £275,000 |
| 2. Ascari A10 | 1.17.3 | £350,000 |
| 3. Koenigsegg CCX | 1.17.6 | £500,000 |
| 4. Pagani Zonda F Roadster | 1.17.8 | £880,000 |
| 5. Caterham R500 | 1.17.9 | £37,995 |
| 6. Bugatti Veyron | 1.18.3 | £925,000 |
| 7. Pagani Zonda F | 1.18.4 | £400,000 |
| 8. Maserati MC12 | 1.18.9 | £560,000 |
| 9. Ferrari Enzo | 1.19.0 | £425,000 |
| 10. Porsche 911 GT2 (997) | 1.19.5 (pd) | £131,000 |