Brabus Mercedes-Benz SL550 Enhanced By Inspired Autosport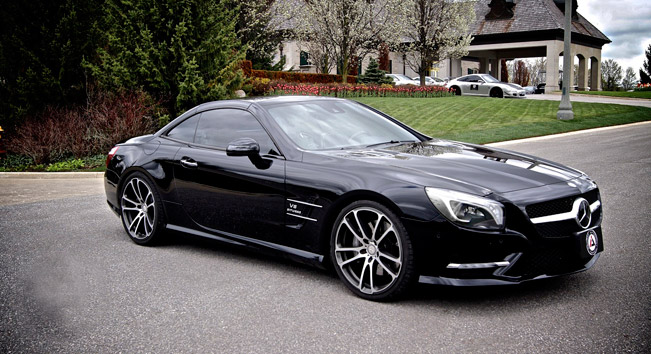 Mercedes-Benz SL550 is undoubtedly a vehicle which anyone dreams of at least driving for a while. The customer of this unique BiTurbo beast decided to give it further improvement after the exceptional work of the Brabus experts. At help came the professionals at Inspired Autosport which added their unique treatment to the car. Originally the SL550 is powered by a 4.7 liter twin-turbocharged V8 enigne.
The powerplant produces 435 horsepower (320 kW) at 5,250 rpm and 699 Nm (516 lb-ft) of torque at 1,800 rpm. The engine is coupled with a seven-speed automatic gearbox. The acceleration time for the sprint from 0 to 100 km/h is estimated in 4.6 seconds, while the production top speed stops at 250 km/h (155 mph).
Obviously, the Vmax wasn't enough for the tuners at Brabus, so they remapped the ECU and installed upgraded intercoolers. With this step, the top speed can now reach 300 km/h (201 mph+). To ensure that the SL550 doesn't catch air at those speeds, they have lowered the vehicle via Brabus springs.
Wheels were next on the list. Inspired Autosport completed the new look of the car with a set of 20 inch CEC C882 forged monoblock wheels in Machine Black. Precisely at the front they come in the size of 20x9, while at the rear – at 20x11.
Source: Inspired Autosport