Brabus Mercedes-Benz E63 AMG - 850HP and 1,150 Nm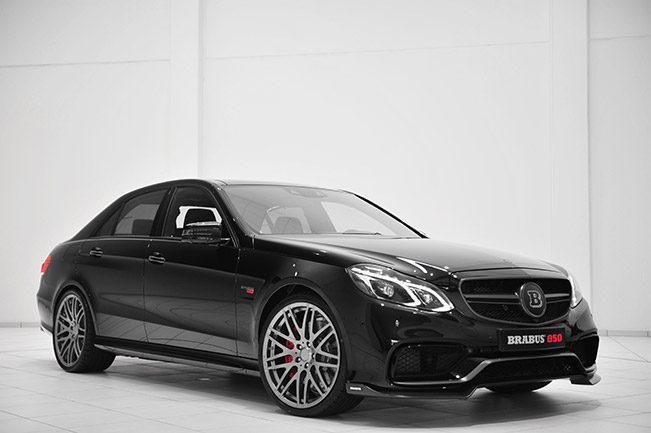 Brabus has unveiled their tuning program for the latest Mercedes-Benz E63 AMG. The performance saloon has received the same performance package as the S63 AMG and some other interesting stuff.
The bi-turbo V8 engine is enlarged to 6.0 liters thanks to increasing the cylinder bore to 99mm and stroke of 96mm. Two new special turbochargers by Brabus and modified exhaust manifolds are also present. The result is spectacular – 850HP (625 kW) at just 5,400RPM and a maximum torque of 1,450Nm (1,069 lb-ft), which is limited to 1,150Nm (848 lb-ft) to protect the gearbox. Speaking about it – a modified SPEEDSHIFT MCT 7-speed sports transmission sending the power to 4MATIC AWD. A Brabus limited-slip differential with a locking rate of 40 % is available as an option.
Performance = incredible! 0-100 km/h in 3.7 seconds with RWD and 3.1 seconds with 4MATIC AWD. The top speed is up to 350 km/h (217 mph).
The exterior features complete aerodynamics package including new front and rear bumpers, a lot of carbon fiber elements like a  front lip spoiler and a sporty rear diffuser. There is also a set of 20" Monoblock alloy wheels with Continental, Pirelli or Yokohama tires.
The interior is available in all kinds of colors and also come with a number of carbon fiber trim elements.
Source: Brabus