Brabus Mercedes-Benz D3 S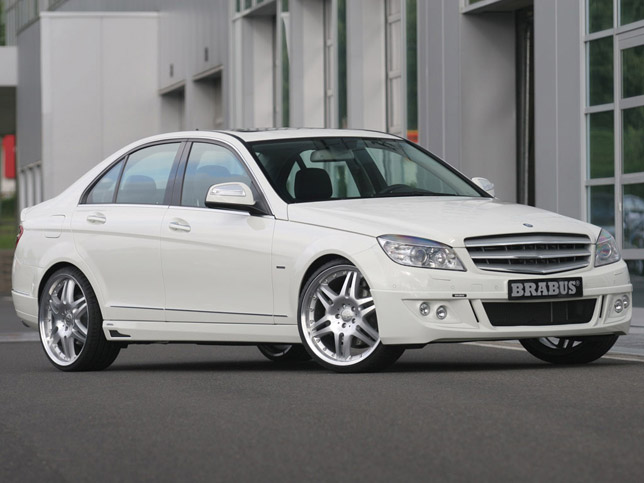 Brand-New for the Latest Mercedes-Benz C 220 CDI: 50 PS (49 hp) / 36.8 kW more Power and an Extra 80 Nm (59 lb-ft) of Torque with BRABUS D3 S POWER XTRA. An increase in maximum power output from standard 170 PS (168 hp) / 125 kW to 220 PS (217 hp) / 162 kW, a jump in torque from 400 Nm to 480 Nm (295 to 354 lb-ft), combined with maximum environmental friendliness in accordance with Euro IV emission limits, and all that backed by the one-of-a-kind BRABUS Tuning Warranty® of three years, up to 100,000 kilometers (see BRABUS warranty conditions): For the new Mercedes-Benz C 220 CDI BRABUS presents the new BRABUS POWER XTRA D3 S power kit.
The processor-controlled BRABUS auxiliary control unit with integrated injector drive module comes with a ready-to-connect wire harness and detailed installation instructions. It can be installed quickly and easily by any authorized Mercedes-Benz dealer. The BRABUS POWER XTRA D3 S tuning kit works flawlessly in conjunction with the standard particulate filter of the C 220 CDI and increases maximum power output by 50 PS (49 hp) / 36.8 kW and peak torque by 80 Nm (59 lb-ft). Despite the increased performance emissions of the turbodiesel engine remain on the low level of the production car: Even with BRABUS performance tuning the car meets stringent EURO IV emission standards.
The added powerful of the tuned diesel engine is noticeable in every traffic situation: The increase in torque gives the C 220 CDI superior pulling power even at low engine speeds, making passing maneuvers shorter and safer.
Vehicle performance speaks for itself: With a sprint time from 0 – 100 km/h (62 mph) of 7.8 seconds the C 220 CDI with BRABUS D3 S performance kit takes almost a full second less than the production car. The top speed of 239 km/h (149 mph) exceeds that of the production model by 10 km/h (6 mph).
The fully stainless-steel BRABUS quad sport exhaust for the Mercedes C 220 CDI looks great and gives the car a more powerful exhaust note.
In addition to performance tuning BRABUS offers an extensive customization program for the new Mercedes C-Class. The product range includes a sporty yet elegantly shaped aerodynamic-enhancement kit, sporty suspension modifications from a simple lowering kit to a complete sports suspension, high-performance brake systems as well as exclusive interior accessories including handcrafted fully leather interiors made from only the very best materials with utmost precision and loving attention to detail.