BRABUS iBusiness2 - Mercedes S-Class
BRABUS premieres iBusiness 2.0, the second version of its extraordinary Apple-packed "office on wheels".
This second version - BRABUS 800 iBusiness 2.0 comes right after the debut of the Apple's latest creation, the iPad 2, yet uses it as a basis for its state-of-the-art multimedia system, enabling the iPad 2 to fully control the functions of the refined S-Class' COMAND system from the rear seats.
The stunning i-based multimedia system of the BRABUS luxury sedan utilizes two iPad 2 tablets with Bluetooth keyboards placed on custom-tailored version of the refined BRABUS table, which is integrated flawlessly into the backrest of the front seats via custom-developed consoles. Moreover, a Mini Mac with 15.2-inch TFT display serves as central computer, and a 64GB Apple iPod touch that can store more than 14,000 songs is used for reproducing pleasant melodies via the sound system of the S-Class or Sennheiser Noise Gard headphones, which filter out any unwanted ambient noise for unmatched music experience.
Besides the unique multimedia system, the BRABUS 800 iBusiness 2.0 further highlights all-leather interior with two-tone, premium leather and individual power seats in the rear. As in the first iBusiness ride, the new version also benefits the sleek BRABUS Yachting wood-trim package, which lends the cabin a maritime feel reminiscent of the classic Italian sport boats.
In the power compartment, the BRABUS masterpiece has a twelve -cylinder twin-turbo plant capable of delivering monstrous figures - 800 horsepower (588 kW) and 1,420 Nm (1,047 lb-ft) of maximum torque. Thanks to the extremely vigor engine, the high-end four-seater estimates sprint time of only 3.9 seconds for the classic standstill to 100 km/h acceleration. Top speed is electronically limited to 350 km/h (219 mph).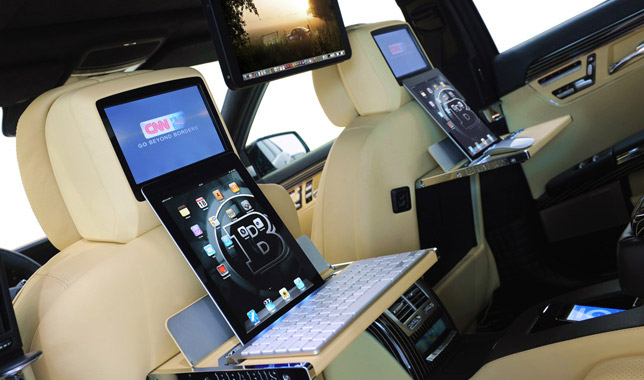 Source: BRABUS