BRABUS GLK V12 strikes as the fastest SUV on the planet
BRABUS GLK V12 topped the Nardo speed tables as the fastest street-legal SUV on the planet. With an annormous speed of 322.3 km/h (200.3 mph) reached at the Italian high-speed oval track on October 19th, 2009, the BRABUS GLK V12 is the new world champion in SUV speed category. The specially refined model is powered by a 12-cylinder twin turbo engine that produces 750 hp (552 kW). The BRABUS GLK V12 will be officially introduced to the public at the Dubai International Motor show with a price tag of 397,000 Euro.
The mighty powerplant fitted in the BRABUS GLK V12 is lubricated with ARAL Synthetic motor oil and delivers 750 hp (552 kW) at 5,500 rpm and produces a peak torque of 1,350 Nm (995 lb-ft) at 2,100 rpm, limited in the car electronically to 1,100 Nm (811 lb-ft). This enormous output is ransferred to the rear wheels via a reinforced five-speed automatic transmission and a BRABUS limited-slip differential. The acceleration from zero to 100 km/h lasts only 4.2 seconds, which fits more to a sports car.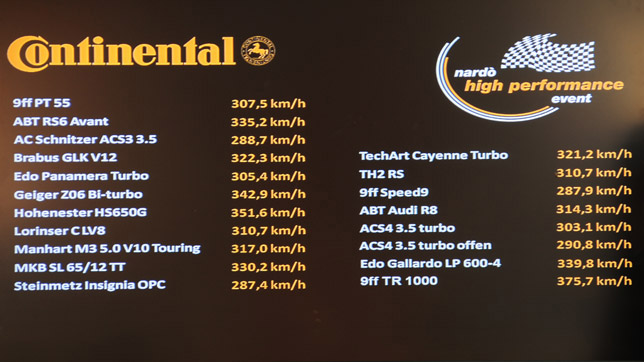 To handle properly with the SUV's huge performance data, Brabus has equipped the vehicle with custom modificated aerodynamics, suspension and brakes.
Developed and optimized in the wind tunnel, the aero kit mounted on the GLK includes: front apron, front carbon-fiber spoiler lip, front and rear fender flares, custom-tailored rocker panels with LED lights, rear roof spoiler, rear apron and custom cutouts, which provides perfect backdrop for the BRABUS stainless-steel sport exhaust system.
A BRABUS Monoblock wheels in 22-inch size emphasizes even more the custom sporty lines of the GLK V12, together with the BRABUS adjustable coilover sport suspension and the high-performance brakes unit they contributes for the proper handling and agility of the SUV.
Inside, the Brabus specialists have restyled the vehicle's cockpit with an exclusive fully leather interior, sport steering wheel, speedometer with 330-km/h (205-mph) scale and stainless-steel scuff plates with illuminated BRABUS WIDESTAR logo.