BRABUS ECO PowerXtra Tuning Mercedes-Benz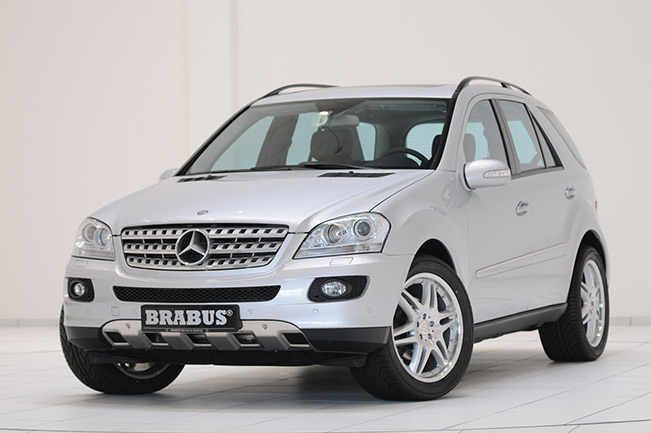 Better diesel fuel economy through professional tuning: A Mercedes ML 320 CDI equipped with BRABUS ECO PowerXtra D6 (III) consumed more than one liter less diesel fuel (+2 mpg) than the production car in a test conducted by ntv Motor in Germany.
n-tv, Germany's leading news channel, wanted to know for sure: Does BRABUS ECO PowerXtra diesel tuning really improve fuel economy despite producing more power? The editors of n-tv Motor, the weekly car magazine on n-tv, hired Klaus Niedzwiedz to conduct the test. Niedzwiedz is not only a renowned car expert; he is also an experienced race driver who among other titles finished second in the touring car world championship in 1987.
Niedzwiedz first drove a stock Mercedes ML 320 CDI (stock except for BRABUS Monoblock VI light-alloy wheels) on a specific test route that covered 94 kilometers (59 miles). The route included city streets, country roads and an Autobahn passage to simulate all the elements of a typical daily commute. The journalist's goal was to drive as economical as possible.
To ensure a comparison under identical conditions, upon Niedzwiedz's return the very same car was equipped with a BRABUS ECO PowerXtra D6 (III) tuning module in less than 30 minutes. It bumped power output of the V6 common-rail turbodiesel engine by 48 hp (47 hp SAE net) / 35.3 kW above the standard output of 224 hp (221 hp SAE net) / 165 kW. Simultaneously peak torque grows from 510 to 590 Nm (376 to 435 lb-ft).
Already the first few kilometers on the same route impressed the tester with the improved performance characteristics of the SUV: "Immediately apparent is the fact that the increase in torque by some 80 Nm (59 lb-ft) results in much better engine response and I have to use less throttle. Highly positive: The vehicle accelerates at low engine speeds, the foot operating the gas pedal remains entirely relaxed."
After the second 94 kilometers Niedzwiedz was even more impressed by the improved fuel economy. For the stock ML 320 CDI the test resulted in a fuel economy of 11.1 liters per 100 km (21.2 mpg), the more powerful BRABUS version on the same route turned in a fuel economy figure of just 9.4 liters per 100 km (25 mpg) –a difference of 1.7 liters per 100 km (3.8 mpg)! And all that while recording an average speed of 75 km/h (47 mph), nine km/h (six mph) faster and ten minutes less than during the first round. "During the first lap I was stopped at red lights more often but I never turned off the engine. Taking this into account the fuel economy improved by at least one liter per 100 km (2 mpg) compared to the production car."
This verdict confirms the philosophy of BRABUS (Brabus-Allee, D-46240 Bottrop, phone + 49 / (0) 2041 / 777-0, fax + 49 / (0) 2041 / 777 111, Internet www.brabus.com) of creating more driving fun through modern tuning while at the same time also improving fuel economy under identical driving conditions. BRABUS-CEO Prof. h.c. Bodo Buschmann was very pleased by the outcome: "This test confirms that our concept works: We follow a simple principle: More torque means lower engine speeds mean better fuel economy. And better fuel economy also translates into a reduction of CO2 emissions."
BRABUS ECO PowerXtra® diesel tuning is available for almost all current Mercedes CDI models, starting at 1,290 Euros MSRP. The BRABUS-tuned engines all meet the same strict
Euro IV emission limits as the production engines. And all BRABUS ECO PowerXtra® kits are backed by the one-of-a-kind BRABUS tuning warranty of three years, up to 100,000 kilometers or 62,000 miles (see BRABUS warranty conditions as of November 2006).