BRABUS 800 E V12 Cabriolet
Brabus has released a stunning tuning package for the latest E-class Cabriolet. The name of the project is BRABUS 800 E V12 Cabriolet and as you may suggest it is just staggering.
It is powered by a 6.3 liter V12 Bi-turbo based on the three-valve engine of the current Mercedes S 600 model. Further modifications to the engine's inner workings include cylinder heads optimized for mixture flow and sports camshafts.
The results – 800PS (588 kW) at 5500RPM and a whopping 1420Nm (1047 lb-ft) of torque, limited electronically in the car to 1 100 Nm (811 lb-ft). 0 to 100 km/h in 3.7 seconds, to 200 km/h in 9.9 seconds and the 300 km/h mark is reached in 23.9 seconds. Depending on the final-drive ratio the BRABUS 800 E V12 Cabriolet has a top speed of up to 370 km/h (231 mph). This is officially the world's most powerful and fastest four-seater cabriolet.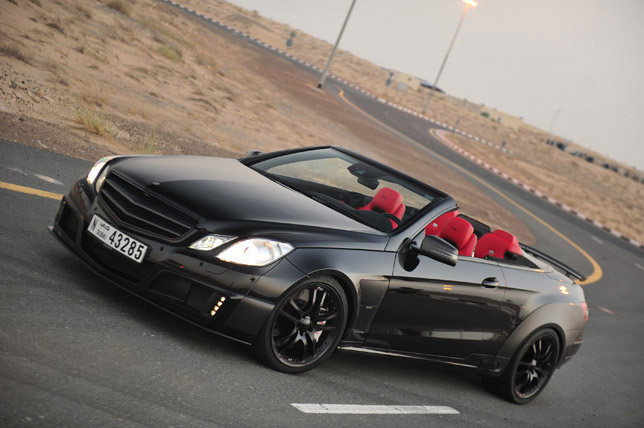 The exterior is completely revised – all BRABUS aerodynamic-enhancement components were fine-tuned in the wind tunnel, and like in Formula 1 racing they are made from ultra-light yet high-strength carbon fiber.
The car stands on ultra-wide 9.5J x 19" wheels mounted with size 265/30 ZR 19 tires. At the rear, special carbon-fiber fender flares add 60 mm (2.4 inches) to the width of the BRABUS E V12 Cabriolet. They create space for 10J x 19" wheels mounted with high-performance tires up to size 295/30 ZR 19, supplied by technology partners Continental, Pirelli or YOKOHAMA. The suspension was developed together with Bilstein and features ten selectable settings for bound and rebound front and back. The ride height can also be adjusted by up to 35 mm to suit each driver's personal preferences.
The high-performance brake system includes 380 x 37 mm vented and grooved steel brake discs and 12-piston aluminum fixed calipers on the front axle and 360 x 28 mm discs with 6-piston aluminum fixed calipers.
The interior matches to the exterior completely. The cockpit is clad in a perfectly finished combination of lipstick-red and black leather. The ergonomically shaped BRABUS steering wheel and inlays made from genuine carbon fiber on dashboard, center console and side trim add sporty highlights. The speedometer with 400-km/h (250-mph) dial bears witness to the unique performance potential of the open-top four-seater car even while it is standing still.
BRABUS 800 E V12 Cabriolet is priced at EUR 478 000.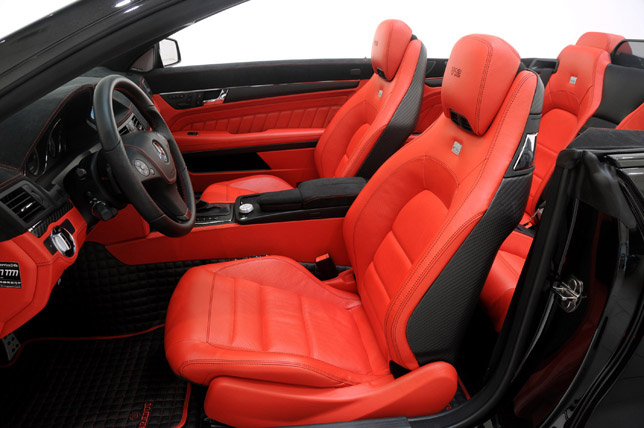 Source: Brabus