Brabus 800 iBusiness based on Mercedes-Benz G65 AMG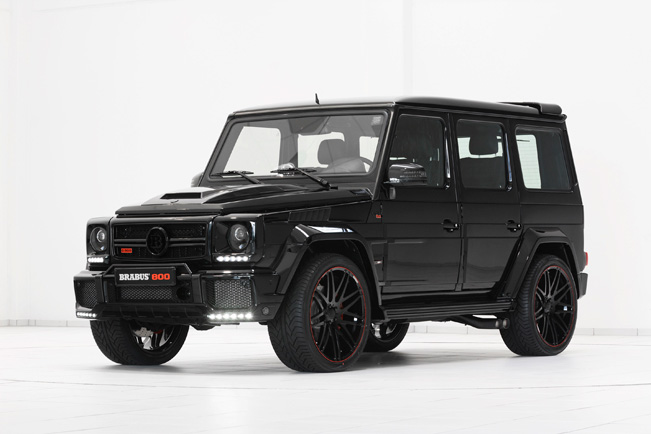 Brabus has unveiled the 800 iBusiness based on Mercedes-Benz G65 AMG. The super-luxurious SUV will make its official debut at the Geneva Motor Show in March. It comes equipped with complete body kit, reworked interior and tuned engine.
The exterior boasts aerodynamics package including new front and rear bumpers, wheel arch extensions, a ram air hood and a revised front grille. All components are made exclusively from carbon fiber for maximum strength and lightness. There are also tinted xenon headlights, carbon fiber roof wing and a set of 23" forged alloy wheels – 11J x 23" Monoblock E evo, Monoblock F or Monoblock R fitted with 05/35 R 23 high-performance tires from Continental, Pirelli or YOKOHAMA.
The interior features completely reupholstered seats in quilted leather, an Alcantara headliner, illuminated sill plates and alloy pedals. The rear seats are individual and a full-length center console between them houses a refrigerator and rear tray tables. Other highlights include a full Apple equipment like an iPod Touch, an iPad Mini, a Mac Mini and an Apple TV. There is a big 15.6" LCD monitor on the roof and premium audio system as well as internet connectivity. Practically, the interior offers everything that a businessman needs.
Finally, the massive 6.0 liter V12 bi-turbo engine comes with new bigger turbochargers, a stainless steel sports exhaust system, an optimized ECU and four water-to-air intercoolers. The result is 800HP (588 kW) and 1,100Nm (811 lb-ft). 0-100 km/h in 4.2 seconds and a top speed of 250 km/h (155 mph) – electronically limited. The fuel consumption is decent: 22.7 l / 100 km in city; 13.7 l / 100 km on highway and a combined cycle of 17.0 l / 100 km with 397 g/km of CO2.
Source: Brabus