Brabus 2012 Mercedes G 63 AMG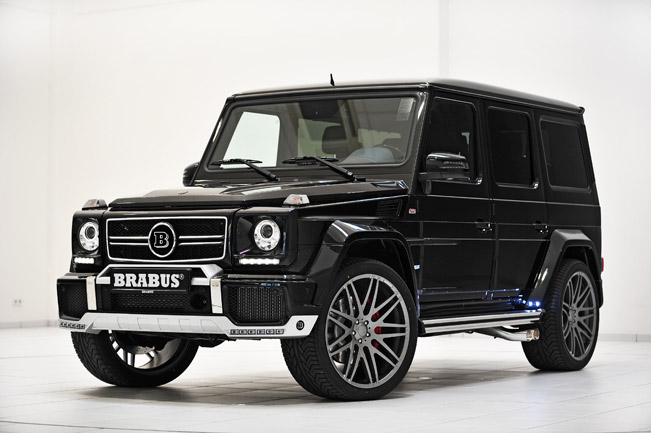 Brabus has introduced their tuning program for the mighty G 63 AMG. The latest G-Class comes with a 5.5-liter V8 Biturbo engine tuned up to 620HP. The big SUV also comes with complete body kit, enormous wheels and some interior modifications.
First is the BRABUS B63 - 620 PowerXtra module boosting the new AMG-sourced engine to 620HP (456 kW) at 5,750RPM and 820Nm (604 lb-ft) at 2,000RPM. 0-100 km/h in 5.1 seconds and a top speed of 230 km/h (143 mph). The performance package is priced at €5,900.
Other nice upgrade is the stainless-steel BRABUS sport exhaust system with butterfly valve. Two tailpipes on either side, exiting in front of the rear wheels and with either a standard or black chrome finish.
The Widestar wide-body kit is modified to fit specifically for the facelift generation of the G-Class. It widens the vehicle by 12 cm and gives striking appearance. The LED lights integrated into the front and rear WIDESTAR fenders illuminate the stainless-steel running boards when a door handle is pulled or the remote is operated.
The vehicle rolls 11J x 23" Monoblock E evo "Platinum Edition", Monoblock F "Platinum Edition" or Monoblock R design wheels fitted with 305/35 R 23 high-performance tires come from BRABUS technology partners Continental, Pirelli or YOKOHAMA.
The cockpit can likewise be customized and refined. The passengers are welcomed by stainless-steel scuff plates with backlit BRABUS logo. Other appealing accessories such as high-quality velour floor mats and BRABUS aluminum pedals and door-lock pins are also available.
BRABUS upgrades the multifunction steering wheel of the G-Class optionally with aluminum shift paddles that allow the driver to shift gears manually just like in Formula One racing.
The BRABUS interior can be custom-tailored to each owner's individual preferences with especially soft and breathable BRABUS Mastik leather or Alcantara in a multitude of colors.
Source: Brabus