Subaru WRX STI by Bilstein races through all corners better than before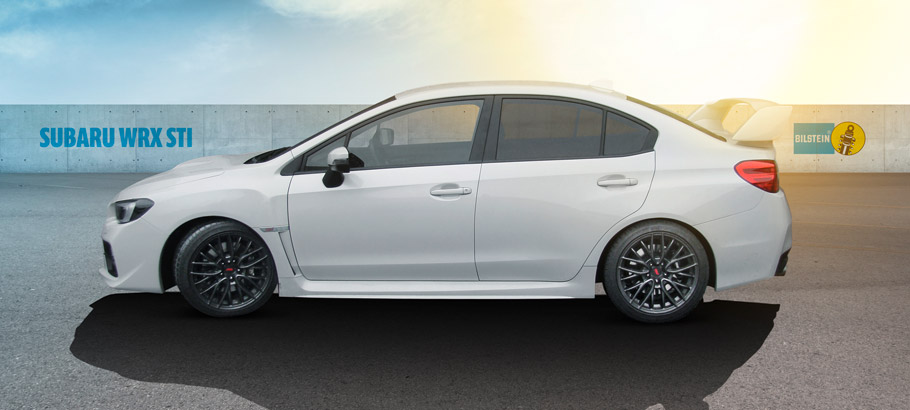 It is well known that Subaru WRX STI is one of the performance road-legal masters of our time. Being an automotive icon (literally) it has been featured on many racing games so that any one could drive it, although virtually. Those who are lucky to have driven it say that on a real country road, the WRX STI is behaving even more fun than in the virtual world or on the real streets. Fitted with the obligatory all-wheel drive and the powerful turbo boxer engine, the car almost seams unbeatable.
However, the team at Bilstein found ways to improve further the racy car by making simple changes. The decision made was to add the OE series of the in-house made gas-pressure shock absorbers. As the professionals say, they have a substantial influence on the handling of the car.
SEE ALSO: Bilstein Builds Captain America's Car Based on Fiat 500 Cinquone 
What is more, the suspension specialists from Germany have also shown that things can be a little bit sportier. As an upgrade or as a substitution of worn shock absorbers, the BILSTEIN B6 gas-pressure shock absorber is the perfect choice. Many who have tried it say that it is "better than original". The reason – it is delivering more damping force, thus enhancing the performance, comfort and durability. And this happens even on poor road conditions and with heavy loads.
For those keen on being closer to the ground, the WRX STI could be equipped with Bilsetin's B8 gas-pressure shock absorbers added to the in-house made lowering springs. By the way, the secret behind these shock absorbers is that they have been specially shortened with a main focus on a harmonious overall package. This also improves handling.
The last two options are for those who really love racing unstoppably. Precisely, the B12 Pro-Kit complete suspension features tuned springs and shock absorbers, while the B16 coilover suspension provides full adjustable lowering from 15 to 25 millimetres and a ten-fold adjustment option for bump and rebound stage.
On a Monday mornings coilovers and suspension seem a reasonable topic to discuss.
Source: Bilstein