Bentley Showcases the Luxurious And Aggressive Mulsanne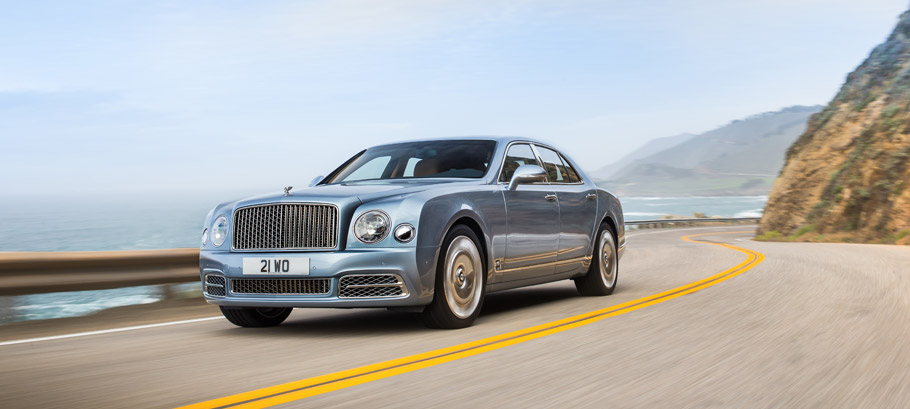 Bentley Motors finally announced full details of the new Mulsanne: the ultimate vehicle of the premium British automobile manufacturer. Handcrafted in Crewe, England, this vehicle is definitely the flagship of Bentley vehicles and represents brand's never-ending desire and passion for doing even better and more refined vehicles. So, let's waste no more time and see what this bad boy offers.
Exterior design
The front of the vehicle underwent dramatic change and now shows contemporary and aggressive stance. This face is dominated by a big stainless steel vertical-vane grille, while the floating all-LED headlamps not only contribute to the aggressive design, but also adopt special technology for better night vision with beam patterns.
Furthermore, the one-piece bumper, radiator shell and bonnet blend together to create this massive and muscular stance, while the brightware details continue on both sides of the vehicle with fresh B-shaped wing vent.

The rear shows new taillights, restyled bumper and somehow more muscular and massive presence. Also, the taillamps incorporate the "B" theme with light guides that create instantly-recognizable signature. Sweet.
And the best part is that the vehicle can be personalized with many two-tone color schemes and stylish 21-inch wheels.
Interior styling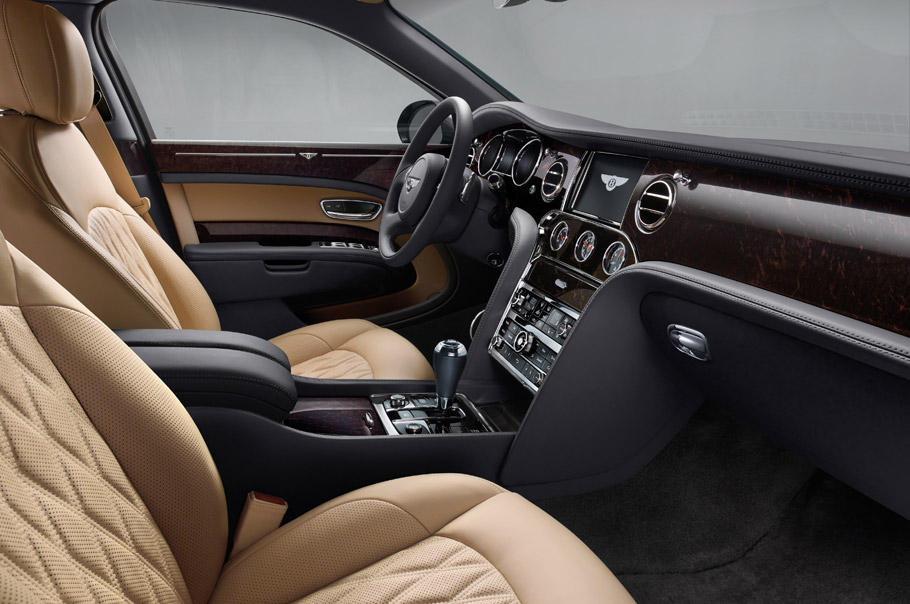 The inside welcomes driver and passengers to cozy and rather functional space. There are comfortable new seats, armrests and door trims. Also, the cabin features hand-selected veneers, bright-polished stainless steel, one-of-a-kind glass switchgear, traditional knurled controls and deep-pile carpets.
And along with the comfortable components, there is a ton of advanced and versatile technologies. For example, the Mulsanne features new infotainment system with class-leading navigation system, 8-inch display and a 60gb hard drive.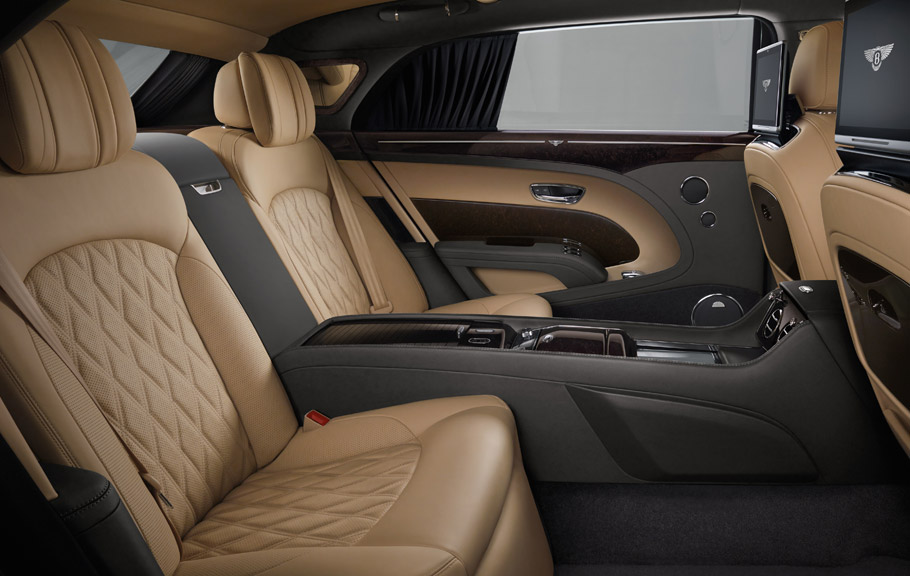 There is also a High Beam Assist system, Blind Spot Warning, Advanced Automatic Stability Control and powerful audio system with 2,200 watts amplifier. Furthermore, the rear-seat passengers will benefit from the Bentley Entertainment Tablet that features 4G, WiFi and Bluetooth connectivity.
Drivetrain system
The new Mulsanne is geared with the mighty 6¾-liter V8 that is capable of developing 505hp (377kW) and the stunning 1,020 Nm of torque. This titanic power is further channeled towards the eight-speed ZF automatic gearbox.Also, this V8 engine features a key technology of cylinder de-activation and variable cam phasing that reduces the overall fuel consumption. Sweet.

This combination ensures that the 0 to 100km/h (62mph) sprint lasts only 5.1 seconds. This impressive start also sets the stage for chasing the top speed, measured at 296km/h (184mph).
Furthermore, the vehicle comes with extended wheelbase that offers first class air-travel driving experience. The 250mm extension means that there is significant addition to the free space in the cabin and also contributes to even more stability on the road.
So, what do you think about Bentley's latest masterpiece?
Source: Bentley