Audi TT RS Plus
Just when you think an Audi TT RS can't get any better, a 'plus' edition turns up and bends your perception of what is good and what is really good. When we say really good, we mean blisteringly fast, outstandingly fun and unmatched in terms of performance. Whichever 'plus' you might choose, the Coupe or the Roadster, you can't go wrong.
The standard 2.5 TFSI 5-line engine found in the RS is already powerful enough but the 'plus' sees a further power boost from 340 hp to 360 hp. Now an even more colossal torque figure of 465 Nm (342.97 lb-ft) passes trough the gearbox which can be an seven-speed S tronic or a six-speed manual. The S tronic is naturally a dual-clutch transmission and has its own launch control for that lightning performance from the starting line. All models come with the flawless quattro system that sends power to all four wheels.
Performance figures are a little bit in favor of the S tronic transmission coupled with a Coupe: a 0 to 100 km/h (62 mph) time for the Coupe S tronic is 4.1 seconds with 4.3 seconds for the manual. The Roadster performs a tenth of a second slower in both configurations (4.2 with S tronic and 4.4 with a manual). The speed limiter for both cars kicks in at 280 km/h (173.98 mph). All of that stacks up pretty well against the economy figures which allow the RS to be driven on an everyday basis - 8.5 liters of fuel per 100 km (27.67 mpg) if you go with the S tronic.
That fuel frugality, as well as the agile acceleration, is partly due to the diet on which the RS had been put. (They should have called it the 'minus'). The Coupé with manual transmission, including quattro drive, weighs just 1,450 kilograms (3,196.70 lb). Other factors which might help the track performance include the four-piston calipers of the big ventilated front brake disks, the large fixed rear wing and the optional electro-magnetic damping suspension that has been a trademark the TT line for ages. The car itself sits on four 19-inch cast wheels (black with red lining on the rim) which are wrapped in wide 255/35 tires.
A striking feature that may give the car away as a 'plus' version is the front grille – it's a mesh of diamond-patterned design framed in what look like aluminum. Apart from that, there are the wing mirrors which are made from a carbon fiber-reinforced polymer (CFRP) and the exhaust system which is distinguishable with its black oval tailpipe trims. A sound flap on the pipes, which enhances the roar from the engine is the car's party piece.
In Germany, the 'plus' versions are priced as follows:
Coupe, manual transmission - €60,650 ($80,434)
Coupe, S tronic - €62,800 ($83,285)
Roadster, manual transmission - €63,500 ($84,214)
Roadster, S tronic - €65,650 ($87,065)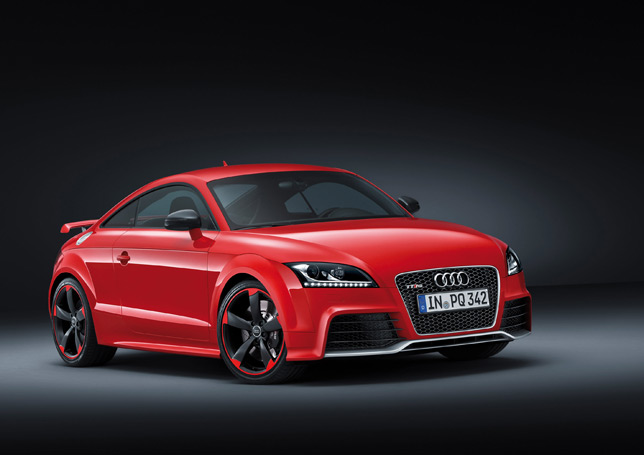 Source: Audi