Audi Q7 3.0 TDI - The cleanest diesel is also ultra-efficient
The new Audi Q7 3.0 TDI with ultra low emission system is the cleanest diesel in the world, and an extremely economical form of propulsion into the bargain. This was demonstrated on the very first leg of the Audi Mileage Marathon on Monday, from New York to Washington. The best participants in this major real-life test criss-crossing the American continent achieved an average fuel consumption of an impressive 7.4 liters per 100 kilometers (31.79 US mpg).
The starting flag went up on the Audi Mileage Marathon at nine o'clock on Monday morning, in New York's Central Park. The endurance test for this fleet of 23 vehicles from the Audi Q7, Audi Q5, Audi A4 and Audi A3 car lines started with a battle through the heavy traffic of Manhattan. Between now and October 20, the fleet will be covering almost 8,000 kilometers (around 5,000 miles) on its way to Los Angeles, passing through major US cities and the natural wonders of the West. 184 drivers from all over the world will be testing both the supreme sportiness and the extraordinary efficiency of the TDI models on this tour.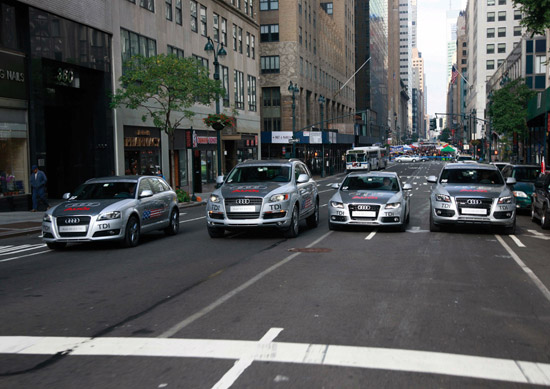 The Audi Q7 3.0 TDI with ultra low emission system is putting in its first public appearance here. Its exhaust emission control system reduces nitrogen oxides by as much as 90 percent, and thus complies with the world's toughest emission standard, California's ULEV II BIN 5. And it already undercuts the limit values of the Euro 6 standard that will not come into force until 2014.
The very first leg of the tour, which was a particularly challenging combination of urban traffic and stop-and-go conditions on the highway, showed that fuel efficiency has not been sacrificed in the process. The most successful representatives of this model achieved fuel consumption of 7.4 liters per 100 kilometers (31.79 US mpg), while other teams managed figures ranging between 7.6 and 7.9 liters (29.77 to 30.95 US mpg) – an outstanding achievement for an SUV with up to seven seats, quattro drive and excellent road performance thanks to an engine output of 165 kW (225 hp) plus peak torque of 550 Nm (405 lb-ft). Volume production of the Audi Q7 3.0 TDI with ultra low emission system will start later on this year, and its market launch in both the US and Europe is scheduled for 2009.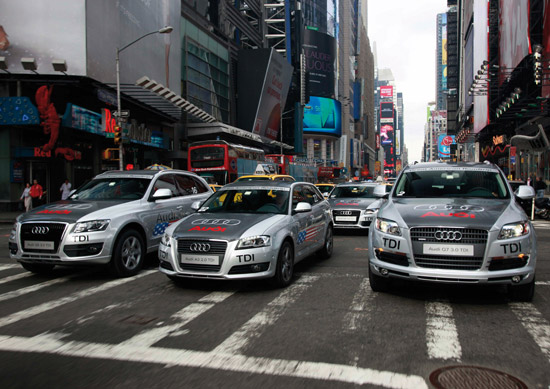 The other Audi models likewise made a very impressive showing, first and foremost the Audi A3 2.0 TDI developing 103 kW (140 hp), with S tronic transmission. Its best fuel consumption figure was less than five liters per 100 kilometers (in excess of 47.04 US mpg). The best team in an Audi A4 3.0 TDI quattro achieved just under six liters per 100 kilometers (in excess of 39.2 US mpg), while the new performance SUV Audi Q5 3.0 TDI quattro delivered sensational proof of its efficiency, at 6.2 liters per 100 km (37.94 US mpg).
The next leg of the Audi Mileage Marathon continues to Cleveland on Tuesday, then on to Chicago on Wednesday. The fuel consumption of the participating vehicles is being monitored by the US-based motor sports association IMSA.