2014 Aston Martin Vantage GT4 Enters GT4 Challenge Series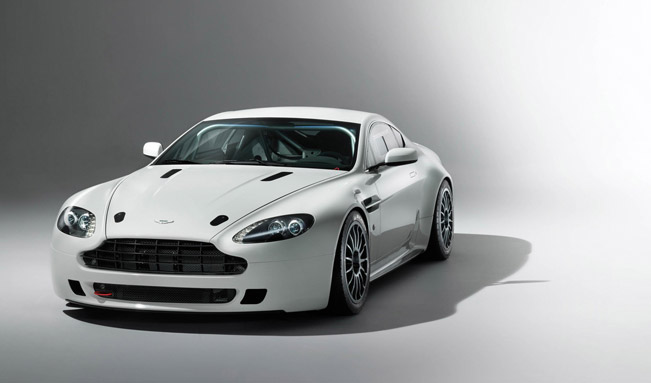 2014 Aston Martin Vantage GT4 is going to take part in brand's GT4 Challenge series. The model is part of the latest three entries, headed into their first round at Watkins Glen. Aston Martin GT4 Challenge of North America is a seven-event, multi-round series. In it the vehicles compete on some of the finest road courses in the country. The racing event is owned and operated by TRG-AMR North America, and begins on 18th of May, while ending on 23rd of Novemer at Sebring International Raceway.
This weekend, Joel Segal tested the Vantage GT4 at the Thermal Club. The driver was so impressed by the car that he even purchased it with the aim to enter the racing competition with it. Aspiring competitors will drive the evocative Aston Martin GT4 Vantage cars they have acquired.
The vehicle is equipped with a 4.7-liter 400 plus horsepower (295 kW) V8 engine, coupled to a six-speed paddle-shifted gearbox. It also features adjustable suspension with track-tuned springs, shocks and antiroll bars, and Pirelli P-Zero tyres. In order to make it appropriate for competition, the designers at Aston Martin made it circa 650 pounds lighter than its road-legal sibling.
In addition, the GT4 also comes with an aerodynamic package, stripped cockpit and FIA-approved roll cage. The price of the model is approximately $200,000, depending on options the drivers chose.
2014 Aston Martin GT4 Challenge of North America Schedule:
May 16-18 Watkins Glen International, Watkins Glen, N.Y.
June 6-8 Virginia International Raceway, Alton, Va.
July 25-27 Circuit Mont-Tremblant, Mont-Tremblant, Quebec
Aug. 29-31 Mazda Raceway Laguna Seca, Monterey, Calif.
Sept. 12-14 Monticello Motor Club, Monticello, N.Y.
Oct. 10-12 Road America, Elkhart Lake, Wis.
Nov. 21-23 Sebring International Raceway, Sebring, Fla.
Source: Aston Martin