Aston Martin upgrades Vanquish and Rapide S models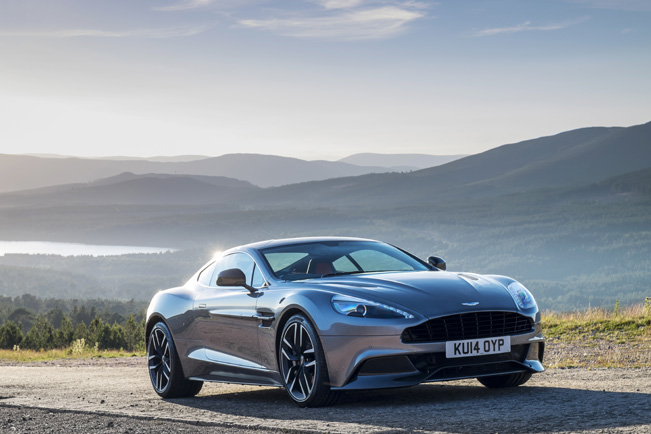 Aston Martin has announced a number of new and exciting technical improvements that will find their way into Vanquish and Rapide S models that belong to the 15 Model Year (15MY). The changes affect performance, fuel consumption and emissions as well as overall driving experience.
The first major change is that both models now come with the new Touchtronic III eight-speed automatic gearbox – the first time ever that this gearbox is integrated in a transaxle layout. The new gearbox has positive influence on both performance and fuel economy thanks to the efforts of ZF, with which Aston Martin has been partnering to bring the Touchtronic III to the Vanquish and Rapide S.
Ian Minards, Product Development Director at Aston Martin, explained: "We have a long and successful technical partnership with ZF and so it was a natural step for us to adapt and integrate their world class 8HP transmission into our transaxle layout."
"This has been a detailed piece of work involving careful consideration of many technical parameters including gear ratios, software integration and shifting strategies.  This has delivered a significant step change in both vehicle performance and economy whilst preserving the unique Aston Martin V12 driving experience."
The new 15MY cars also feature reduced 0-60 mph times – the Vanquish and Rapide S now accelerate to 60 mph in just 3.6 seconds (3.8 seconds 0-100 km/h) and 4.2 seconds (4.4 seconds 0-100 km/h), respectively, down from 4.1 seconds for the Vanquish and 4.7 seconds for the Rapide S. The new gearbox and changes in the gear and final drive ratios also allow the cars to feature lower emissions that are now lower by an average of ten per cent – down to 298 g/km for Vanquish and 300 g/km for the Rapide S. Economy is boosted by thirteen per cent (Rapide S) and seven per cent (Vanquish) with the new transmission (US Combined cycle). In addition for the first time both cars can achieve 200 mph (320 km/h) and more. Peak power also rises – the Vanquish now sports 568 bhp (576 hp or 423 kW), while the Rapide S offers 552 bhp (560 hp or 412 kW) of power. Peak torque is also up to 465 lb.-ft. (630 Nm) at 5,500 rpm.
In addition to all this the new Aston Martin Vanquish and Rapide S take advantage of the latest Bosch Engine Management System. The new system, which delivers more precise engine control and seamlessly communicates with the new gearbox, receives its first application in an Aston Martin that combines the AM29 V12 engine and an automatic gearbox.
Uprated dampers on the new Vanquish – 15% stiffer at the front and a full 35% stiffer at the rear – improve the dynamic characteristic of the car in line with its significantly enhanced performance. Rapide S, meanwhile, gets uprated larger front brakes. Both cars also benefit from a retuned brake booster and amended rear suspension bushes that are now 20% stiffer than before. There are other minor changes to the two models as well.
The global market introduction of 15MY sports cars begins in Q3 of 2014, with more details on market-specific pricing and options available in due course.
Source: Aston Martin