Aston Martin to showcase Q by Aston Martin bespoke service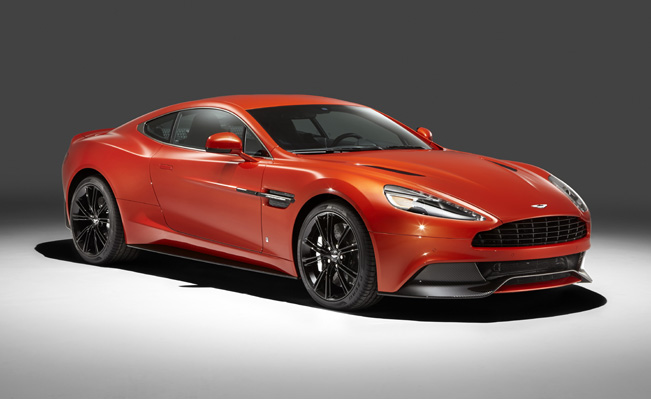 The famous automobile brand Aston Martin will showcase a new collection of bespoke commissions created by the company's Q by Aston Martin division at the Pebble Beach Automotive Week next week.
There is a total of four new Q by Aston Martin designs, led by the Los Angeles-based dealer partner, Galpin Aston Martin. All new designs are based on the DB9 Volante, V12 Vantage S and Vanquish sports cars.
The Q by Aston Martin Vanquish Coupe comes with amplified colors, bold contrasts and a new and innovative enlarged carbon fiber weave structure. The exterior is painted in Abor Orange, which is an exclusive new Q paint finish, and offers the vibrancy of a rich orange red fired with an intensity emphasized by a shimmering pearl effect. Ensconced in the Obsidian Black leather interior, the carbon theme is continued with a printed leather in a design called 'Helix'; inspired by a carbon molecule helix and influenced by experimental rapid prototyped furniture. Running like a spine down the centre of the car, the Helix print is set on an unbroken expanse of leather headliner panel, and is revealed again in the door panels.
The Q by Aston Martin Vanquish Volante comes with a new exterior paint finish – Frosted Silver – that offers better light to dark travel. Graphite-finished 10-spoke alloy wheels are set against classically styled polished calipers that match the Solid Sterling Silver seen in the Aston Martin wings and Q badges.
The Q by Aston Martin DB9 Volante offers an Ashen Blonde exterior – warm silver taken from the exclusive Q palette and paired with polished alloy wheels. Inside, the DB9 adopts a blush pearl leather, Piano Ice Mocha facia and drawing inspiration from luxury furniture, a blanket stitch which runs the length of the central spine of the interior. As a final touch a pink Rhodachrosite stone is inlaid in the Q buckle badge strapped to the console.
Finally the Q by Aston Martin V12 Vantage S comes with a rich purple amethyst exterior paint that gets combined with bright painted Monterey Pearl front grille and rear diffuser. An Obsidian Black interior is punctuated with Vivid Purple leather details on a number of details including seat stripe, headlining, steering wheel and glove box lining. Also included are a series of special carbon fiber details such as the rotary controls which are each hand wound from a single filament of carbon fiber.
Matthew Bennett, The General Manager for Q and VIP Sales said: "The Q by Aston Martin collection of cars shown at Pebble Beach are a bold statement of the intent and capability we are developing within Q. They show how customers can be inspired to create truly unique cars and the breadth of bespoke capability at their disposal."
Source: Aston Martin