Aston Martin to present 2015 V12 Vantage S Roadster at Pebble Beach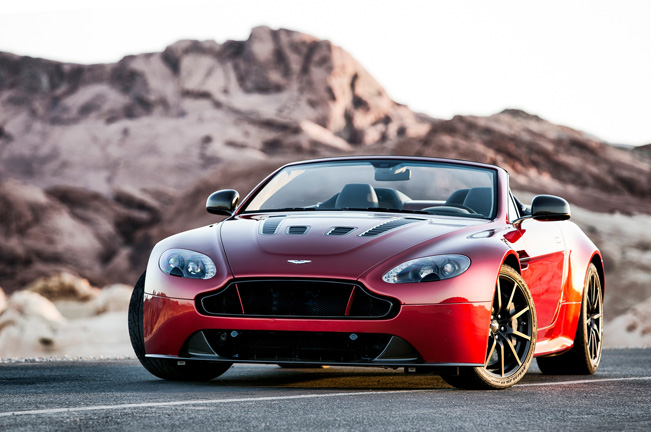 The famous luxury car maker Aston Martin has announced that its new 2015 V12 Vantage S Roadster will make its global debut at the Pebble Beach Automotive Week, which starts on August 14.
The upcoming Aston Martin vehicle will deliver sporting agility and an enviable sports soundtrack thanks to its naturally aspirated Aston Martin AM28 6.0-liter V12 engine that delivers 565 horsepower (415 kW). Thanks to this engine and state-of-the-art Bosch engine management the new car can reach 201 mph (323 km/h), accelerating from rest to 60 mph (100 km/h) in just 3.9 seconds. When released, the new Aston Martin 2015 V12 Vantage S Roadster will be the car company's most potent, fastest and fastest-accelerating series production roadster to date.
The Aston Martin 2015 V12 Vantage S Roadster will be accompanied by the new Design Prototype 100 (DP-100), which makes a North American debut. Developed in six months time, the DP-100 is a new virtual-only GT racer. The upcoming car looks beautiful and will be available to owners of Gran Turismo 6 to download; later this month it will be shown as a full-sized hand-crafted model at Monterey.
The DP-100 will come with a powerful twin-turbo V12 engine that delivers 800 HP (588 kW). In addition to that the prototype provides an exceptional level of detail with a fully functional suspension system and state-of-the-art electronics. The DP-100 will be exclusively available for viewings to customers and invited guests at the Aston Martin Estate (14-16 August) where it will be joined by the V12 Vantage S Roadster which will also lead the marque's presence at Quail: A Motorsports Gathering (15 August).
Source: Aston Martin