Aston Martin LMP1 Defeated
The Le Mans Series-winning Aston Martin LMP1 defeated in face-to-face battle by the most feared weapon in the British army, the Challenger II Battle Tank. Gathered together on the Salisbury Plain for a joint event organised by the army and Prodrive, which raised an estimated £6k for 'Help for Heroes', the iconic British racing car admitted defeat after there were no smooth racing track to use its superior speed to escape.
During the day Prodrive took the army for rides in a Subaru rally car, while the army showed the motorsport company how good the Challenger II tank is off-road.
"The Challenger II has amazing off-road capability," said Prodrive chief engineer vehicle engineering, Steve Barwick. "But, despite having 1200 horsepower at its disposal, its 62 tonnes means its never going to win any rallies and the tracks wouldn't give much grip on a race circuit.  However, it was interesting to see how similar the challenges in designing a military vehicle are to those of a rally car, where ultimate off-road speed and stability are paramount."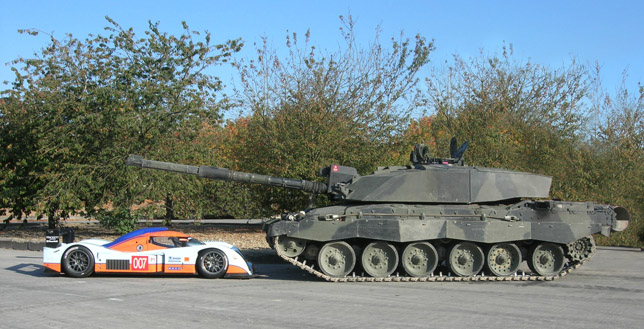 Specifications:
| | | |
| --- | --- | --- |
| | Aston Martin LMP1 | Challenger II Battle Tank |
| | | |
| Top speed: | Over 200 mph | 37 mph (25 mph off road) |
| Weight: | 900 kg | 62,500 kg |
| Engine: | Aston Martin V12 6 litre petrol | Perkins CV-12 diesel |
| Power: | 700 bhp (520kW) | 1,200 bhp (890 kW) |
| Power to weight ratio: | 737 bhp/tonne | 19 bhp/tonne |
| Transmission: | Xtrac six speed | David Brown TN54 epicyclical transmission |
| Suspension: | Double wishbone with coil over springs | Hydropneumatic |
| Crew | One - driver | Four  - commander, gunner, loader, driver |
| Main weapon | None | 120 mm 55 calibre long L30A1 tank gun |
| Armour/protection | Lola carbon-fibre monocoque chassis | Second generation Chobham armour |
| Price | £1 million | £4.2 million |