A.R.T. Mercedes-Benz G63 / G65 AMG Wide Body kit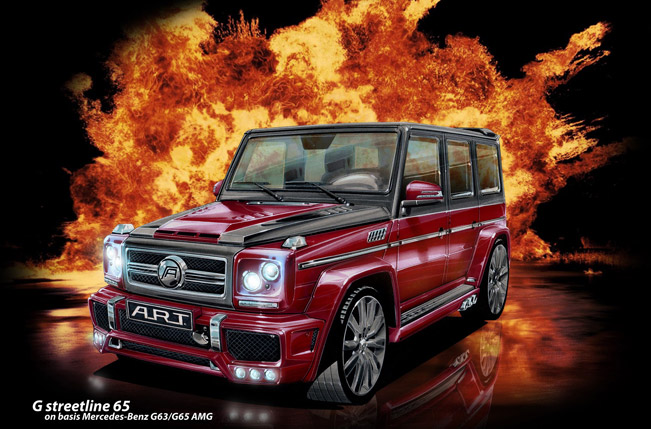 A.R.T. Tuning takes the leash off their brand new wide body kit for G 63 and G65, the A.R.T. G streetline 65 is the brand new Body-Kit by A.R.T. tuning which is especially made to enhance the Mercedes-Benz G63 / G65 AMG. It combines the distinctive A.R.T. design with the highest technical demands.
The impressive visual appearance is complemented by technically innovative solutions, which truly exceeds all expectations. Some of the technical specifications that emotionally infect at once: first, the enormous performance increase up to 749 hp (550 kW) for the G65, 681 hp (500 kW) for the G63, and unprecedented 1000 Nm (738 lb-ft).
These modifications in power have been done by reprogramming the ECU, installing high flow catalytic converters and additional cooling systems for engine, fuel circuit and transmission.
Secondly, the awe-inspiring A.R.T. G streetline 65 wide body kit, consists of an breathtaking front bumper with integrated front spoiler, a smooth pair of running board covers with LED underfloor illumination, a set of grand fender flarings with LED running board illumination and an eye-catching rear bumper with double retroreflector units
What's more, the innovative LED triple beam lamp set, with two additional LED high beams and one LED daytime running light per side is what brings more illumination. The extra air intakes in the front bumper, channel the air flow for improving the cooling of the brake system on the front axle.
The spectacular A.R.T. aero engine hood in bicolor design is also an element which impresses very much. It has no less than 19 air intakes for improving the thermic conduction. On the other hand A.R.T. Premium High Bi-XENON headlamp system with integrated LED daytime running light is what makes the Mercedes-Benz even more distinctive.
The imposing A.R.T. roof spoiler with LED wideboard brake light and blend in stainless steel, the towering monoART1 wheels in size 22x10 with tires in size 295/35 R22, the new A.R.T. sport exhaust system in stainless steel, culminating in three end pipes per side is what finalizes the exterior enhancements.
For the interior here the tuners have utilized leather and Alcantara, crowned by carbon and noble woods. A.R.T. There are also handmade elements that grab the attention. The delivery of the G streetline 65 will start in January 2013.
Source: A.R.T. Tuning