Alfa Romeo Giulia is expression of the meaning of exhilarating Italian design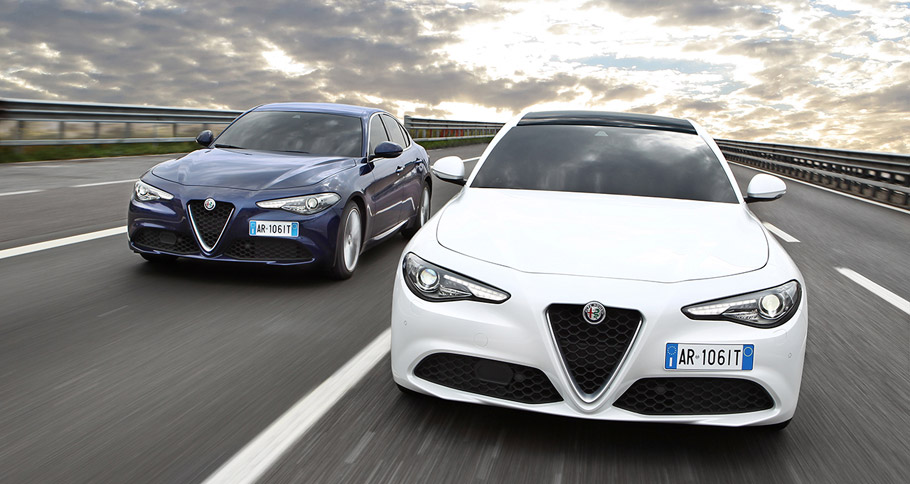 Today marks the reveal of Alfa Romeo Giulia and its entire range at the Centro Sperimentale di Balocco (Vercelli). In other words, the car has finally debuted, offering a brand new take on its fantastic design. The top of the range version is called Quadrifoglio, which is expression of the "La meccanica delle emozioni" concept.
We will keep things short. Basically, the range comprises of three trim levels – the Giulia, Super and Quadrifoglio. They will be equipped with five new engine versions. The first one is the 2.2-litre diesel unit, which offers two horsepower outputs, 150 HP and 180 HP. It is connected to a 6-speed manual gearbox or 8-speed automatic transmission. The third unit variant is the 510 HP 2.9-litre V6 Biturbo petrol engine mated to a 6-speed manual gearbox.
SEE ALSO: 2016 Alfa Romeo Giulietta Offers Refined Performance and Sexy Looks 
Other new featured in the Giulia include rear-wheel drive, excellent weight distribution across the two axles, suspension system with AlfaLink technology and the most direct steering in its segment. What is more, the great engine performance of the car is combined with the use of ultralight materials like carbon fibre and aluminium.
Next, the new Alfa Romeo Giulia can also show-off with Integrated Brake System (IBS) for considerably reducing braking distance – (from 100 km/h to 0 in 38.5 m for the Giulia and in 32 m for the Quadrifoglio) as well as active suspension. The top of the range variant, the Quadrifoglio, gets Torque Vectoring technology, which offers torque distribution between the two wheels on the rear axle, and the AlfaTM Active Aero Splitter actively manages downforce at high speed.
Italians are known for the exclusive style. This means that we should expect much from the Alfa Romeo. The design is expressed via the harmonious proportions, the technical architecture, sophisticated simplicity and quality surfaces.
Alfa Romeo Giulia can be now ordered.
Source: Alfa Romeo