Acura Precision Concept Shows New Human-Machine Interface Approach [VIDEO]

Acura Precision Concept is something we were longing to see revealed at the North American International Auto Show. The reason for this is that it isn't just another concept, but it is a project which points towards the bolder innovative design direction of the brand. And precisely, towards future Acura sedans. As a matter of fact, the car was developed by those two designers who played crucial role in the creation of the latest-generation Acura NSX supercar, Dave Marek (Acura global creative director) and Michelle Christensen.
The concept was developed to express the DNA of the brand: "Precision Crafted Performance." In other words, the vehicle highlights the details and is an intersection of modern, sheer surfaces and muscular, organic sculpting. The exquisite performance of the concept is represented via its ultra-low and wide stance, long dash-to-axle ratio, deeply sculpted surfaces and at last (but not least) the brand-new Diamond Pentagon grille.
SEE ALSO: Acura Announces Details for 2016 Precision Concept
The athletic stance of the car is strengthened by its deeply sculpted side surfaces and supported by the 22-inch wheels and tires over which we see swelling rear wheel arches. The future car also includes signature lighting designs back and front. At the face we see its Jewel Constellation LED headlights composed of organically arranged fractal elements, while at the rear there is back with floating LED taillights.
Futuristic Interior & HMI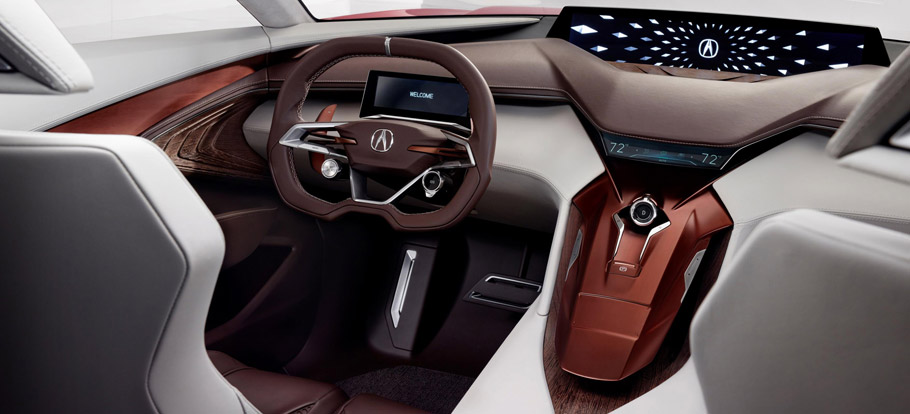 Inside, there is a continuation of the approach of the design and an expression for this is "quantum continuum" theme. It is further highlighted by the absence of a b-pillar. After opening the large door rocker panel, we see an interior with surfaces with striking tones, floating rear seats, rear center high-mounted stoplight, and a lot of modern detailing.
We must pay more attention also to the double-layered instrument panel, the high-contrast front seat surfaces, and the hand-crafted audio speaker grilles made of exotic wood. And have we mentioned that the seats are race-inspired as is the steering-wheel, which features paddle shifters and Integrated Dynamics System (IDS) controls. The interior also includes a floating center meter, a driver's head-up display, a cantilevered center stack and an ultra-wide, thin and curved center display screen.
At last, we should say a word about the Acura HMI Concept, which is company's approach for Acura's digital human-machine interface (HMI). It will enable more intuitive and advanced connection between man and machine. The wide and curved center screen can be operated via floating touch pad on the center stack. The HMI makes everything easier because upon entry, it scans each occupant and selects personalized features and functions, like maps, audio and performance settings.
Video Source: YouTube
Source: Acura