ABT Sportsline and the 410HP Strong Audi RS Q3

This is probably if not the latest project the one before that from ABT Sportsline for this year… and we love it. It is based on a car with an engine which has been announced as "International Engine of the Year" and therefore it sets very high expectations. The stock output of this unit is rated at 340 hp (250 kW) and 450 Nm (332 lb-ft) of torque.  And it is very intriguing to see what the ABT experts have done over this good basis.
The awarded engine, the 2.5 TFSI, got ABT Power "New Generation", which is tuning company's high-end performance upgrade with its own separate control unit and software. In this way, the RS Q3 received significantly more power, 410 hp (301 kW) and a torque 530 Nm (390 lb-ft).
SEE ALSO: ABT Individual Tunes Audi RS3 to 450HP for Essen Motor Show
Other additional goodies here include height adjustable suspension kit with a flexibly lowered suspension. It brings the Audi closer to the ground by 15 to 45mm. But the beautiful white car is not only lowered, but it is also widened with the help of in-house made ABT wheel spacers of size of 4x15 or 4x25mm.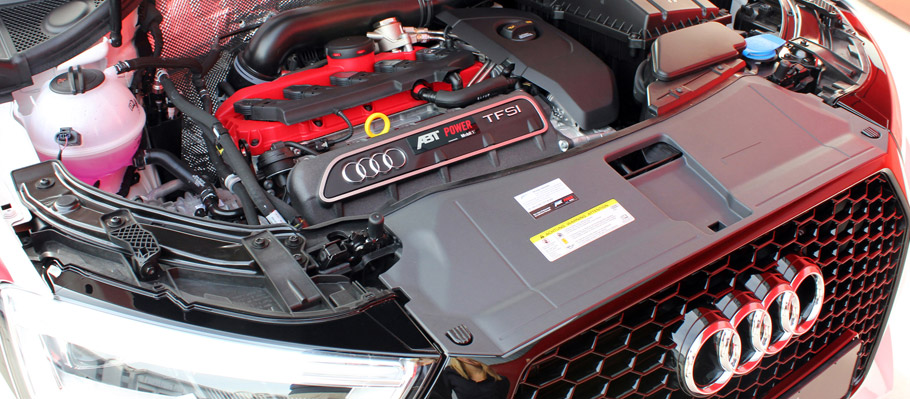 The width is emphasized via huge 21-inch wheels, which come in contrasting mystic black finish. ABT Sportsline also offers additional styling enhancements like the mirror caps and various deco films and red-and-black stripes for the "hips".
The true emphasis here is the rear skirt, which is made of high-quality PU-RIM. It also features serpentine ornamental grid. The styling set also comprises of stainless-steel muffler system with four 89mm black tail pipes. They are impressive not only because of their looks, but because of their sound, too.
Source: ABT Sportsline