ABT Audi R8 5.2 FSI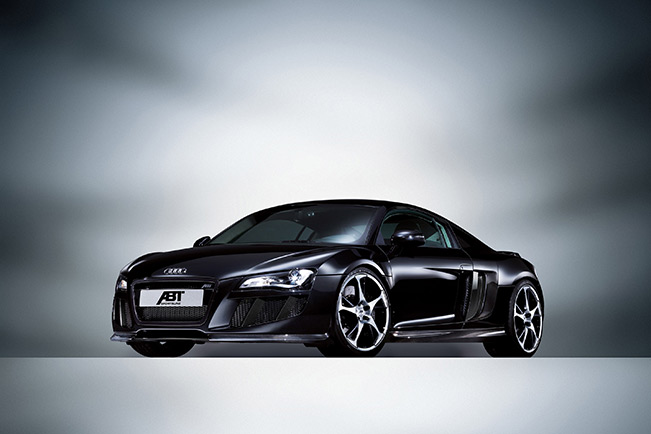 German tuning company ABT Sportsline has released information on its latest sport package for the Audi R8 5.2FSI. The engine is V10 – 5204cc with 600hp, which boosts the R8 from 0 to 62mph in 3.8 seconds and has top speed of 322 km/h. Some people say that the horse powers are never enough, they just have to drive this monster to change their opinion.
The tuning company also took care about the bodywork by providing new perfectly coordinated body kit for the R8. The engineers focused on optimal weight distribution, which is crucial for the super sports cars. High quality light weight carbon materials are used to provide better handling and better acceleration.
Front air dam, side skirts, rear wing and rear apron complete the aggressive look of the car. The exhaust is the ABT-typical 4-pipe system. The current leader in the ADAC GT Masters - Christian Abt said that the car has to achieve high speeds not only on paper, but in real situations.
20-inch BR-type wheels perfectly match the elegant design of the ABT Audi R8.
ABT R8 5.2 FSI Specifications:
ABT ENGINE TECHNOLOGY
Engine: 5.2 FSI, V10, 5204 cc
Performance: ABT POWER
Power: 600 PS/441 kW (standard: 525 kW PS/386kW)
ABT BODY
ABT front grill
ABT front skirt
ABT Sidebar
ABT rear skirt
ABT rear spoiler
ABT SPORTS WHEELS
ABT AR and BR, 20 inches, or polished diamond (Also available as a complete set of sports tires)
ABT EXHAUST TECHNOLOGY
ABT SUSPENSION
ABT adjustable sports suspension