ABT Sportsline Unveils a 210HP Audi Q3 2.0 TDI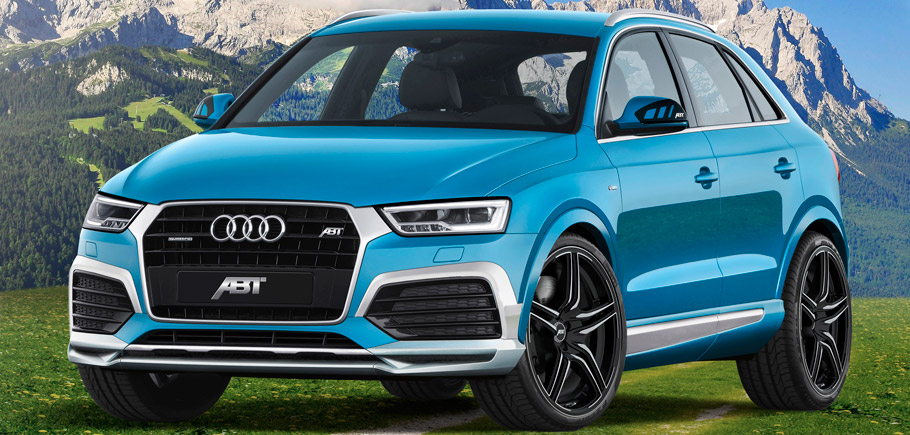 ABT has been trending in our site lately so we decided to show you their latest project. Again, the car under the spotlight is Audi, but this time it is the Q3. It has received complete treatment, meaning that the changes are almost in every aspect. I should also mention that this particular car is powered by the 2.0 TDI engine, which is famous for its efficiency credentials … well, maybe not anymore. And if this speaks anything to you, then you should already figured it out that this conversion features power uprating.
Engine & Suspension
What has been done to the powerplant and how? The performance tuning has been achieved with ABT POWER New Generation kit. The result is great. The standard 184 hp (135 kW) and 380 Nm (280 lb-ft) of the unit has been enhanced to 210 hp (154 kW) and 420 Nm (310 lb-ft).
SEE ALSO: How About 400HP Golf and a TT at Wörthersee? This Time both from ABT Sportsline
In terms of suspension, ABT ensured that the Q3 gets new in-house made suspension springs with front axle lowered by 25 mm, and rear axle - by 35 mm; and height adjustable suspension kit that lowers the front axle by 30–60 mm, and the rear axle by 40–70 mm.
Exterior Tuning
From the outside the vehicle looks amazing and for this is contributing the fact that the tuner has given this Audi some substantial updates. Therefore the Q3 can now show-off with front skirt add-ons including a front spoiler, mirror caps, door strip attachments and a rear spoiler. At the back, an integral part of the ABT rear skirt is the muffler system with its four tailpipes.
What is more, we should also mention the wheels, which come in the dimension between 18- and 21-inches and are fitted with high-performance sports tires.
Interior Tuning
The modifications inside aren't that much, but they definitely add to the charm of the Q3. They include ABT door entrance lights with company's logo and floor mats, as well as a trunk mat for the luggage.
Source: ABT