ABT 2012 Audi A4
ABT Sportsline has announced the new tuning package for 2012 Audi A4. The name of the project is AS4 and it includes both styling and performance modifications.
There are performance packages for the 2.0 liter TFSI, the 3.0 liter TFSI and the 3.0 liter TDI engines.
The 2.0 liter TFSI is boosted to 275PS (202 kW) from 211PS (155 kW), while the mighty 3.0 liter TFSI boasts 435PS (320 kW), instead of 333PS (245 kW). The economic diesel – 3.0 TDI has 282PS (207 kW) from the factory's 245PS (180 kW).
The exterior package includes front spoiler, a pair of side skirts, fender inserts, rear bumper insert and rear spoiler. All components are made from high quality materials. There are also axle back exhaust and designer light alloy wheels in 19" and 20", which can be fitted with a set of sports tyres.
There is no doubt that the new AS4 is a real eye-catcher! Check out the high-resolution images in the gallery.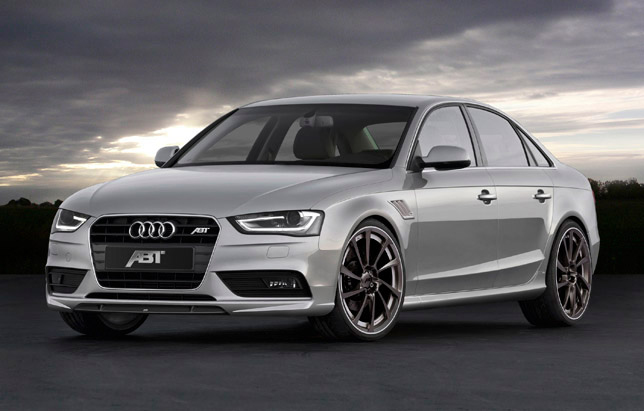 ABT AS4:
ABT ENGINE TECHNOLOGYEngine:                2.0 TFSI, 1.984 ccm capacity Performance tuning:            ABT POWER Performance:                275 HP/202 kW (standard: 211 HP/155 kW)
ABT ENGINE TECHNOLOGYEngine:                3.0 TDI, 2.967 ccm capacity Performance tuning:            ABT POWER Performance:                282 HP/207 kW (standard: 245 HP/180 kW)
ABT ENGINE TECHNOLOGYEngine:                3.0 TFSI, 2.995 ccm capacity Performance tuning:            ABT POWER Performance:                435 HP/320 kW (standard: 333 HP/245 kW)
ABT AERODYNAMICSABT front spoiler ABT side skirts ABT fender inserts ABT rear bumper insert ABT rear spoiler
ABT EXHAUST TECHNOLOGYABT axle back exhaust
ABT WHEEL TECHNOLOGYABT designer light alloy wheels in 19 and 20 inch Available also as complete set of wheels with sports tyres
Source: ABT