2017 Panamera in details: distinctive as always, appealing as never before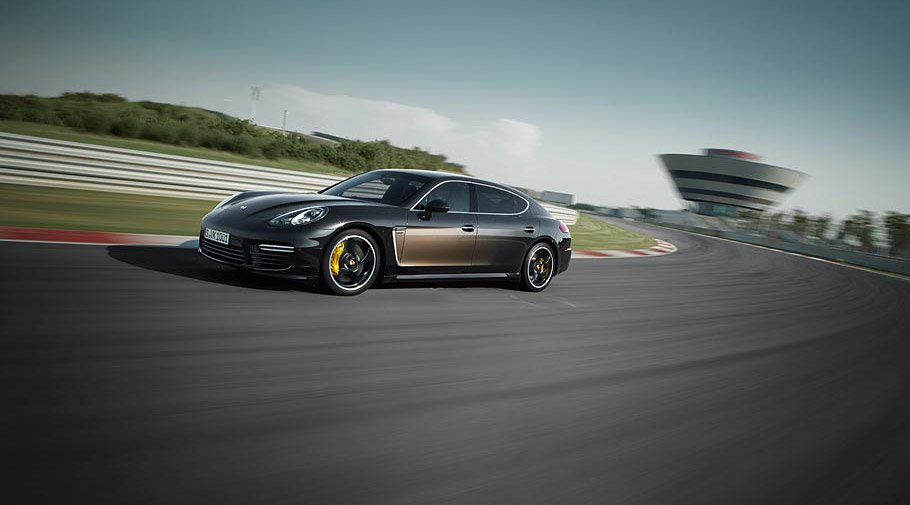 You might have understood how excited we are about the new Panamera. And how would we not be? We got a more Porsche-resembling vehicle that all of the previous Panamera models, a closer relation with the 911 lineup and tons of tweaks and changes.
All Porsche fans know that the engineering team systematically improves the Panamera concept: every new generation is somehow better, more advanced and more refined than its predecessors. And the 2017 model is no exception! We got a four-door sedan-like sports vehicle with distinctive styling, neat lines, heavily revised drivetrain system and of course, meticulous attention to details. So, let's see what this bad boy has to offer!
Exterior styling: close to 911, far from mediocrity

We do see a famous body language: long and dynamic proportions, pronounced shoulders and lowered roof. Definitely a typical Panamera, but with some changes in order to meet the requirements of the new model year.
2017 model edition comes with slightly larger body and despite the slight height increase, the vehicle is lower and longer than its predecessor. Of course, this means two things: more interior space and more massive presence.
In fact, the six millimeters growth in width looks like several centimeters. This illusion is created by the A-shaped air intake, while the arrow-shaped hood moves this effect forward, whose lines now reach the bumper. Also, the hood bends to the left and right and blends elegantly into the strong flares of the front fenders: definitely a typical Porsche approach, but this time we got and some slight changes here and there.
Sides, just like the hood, roof and fenders is made entirely of aluminum and represents more sporty appearance than all of the Panamera predecessors. We give the credit to the roof line. And at the rear this very same line becomes a sort of vital for the Porsche design: it completely shapes the rear style.
Interior styling: futuristic and elegant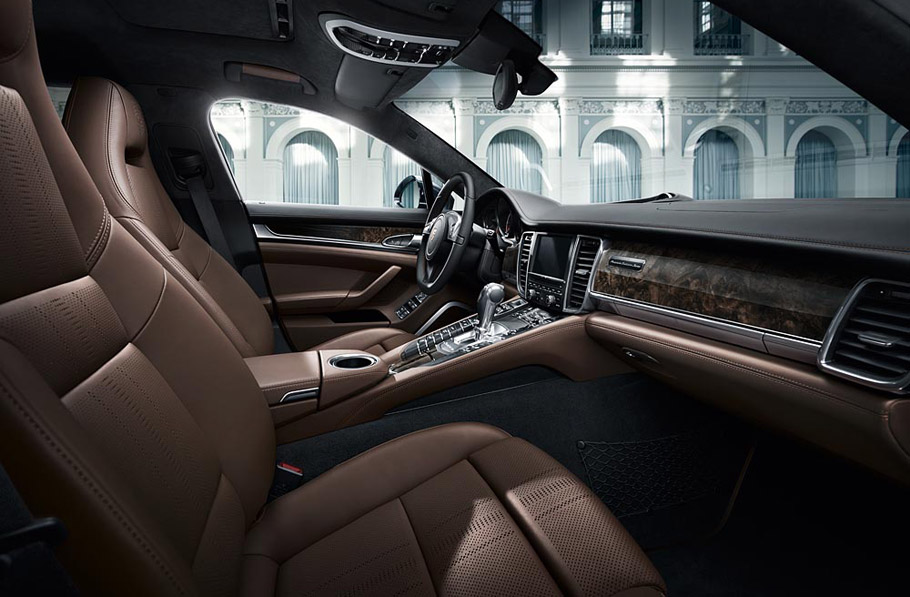 The cockpit proudly demonstrates a completely revised style. Many of the touch-sensitive areas are replaced with classic buttons, while the high-resolution displays do integrate perfectly into the interior. In fact, as you might know, the digitalization of Porsche interior started with the 918 Spyder and has undergone some serious changes with the Panamera lineup to deliver us the Porsche Advanced Cockpit. Driver sits in low seat position sports vehicle that provides not only high levels of comfort, but also makes it easier for driver and passengers to use all the digitalized systems and displays in a way they feel comfortable with.
The console between driver's seat and the front passenger's seat is completely dominated by a large 12.3-inch touch screen that incorporates the functionality of the next-gen Porsche Communication Management system. Also integrated in the system are features like Apple CarPlay, new voice control function, navigation and more.
SEE ALSO: A rather special Porsche 911 model is heading to Goodwood festival
Definitely a notable feature, the Porsche Advanced Cockpit brings tons of new technological features, but at the same time remains true to the heritage of Porsche. For example, the analog tachometer with its central position is a tribute to all the vintage Porsche sports vehicles.
Drivetrain system: refined and powerful
Porsche vehicles have always impressed with precision, refinement and power. Needless to say, the 2017 Panamera is no exception. The whole lineup comes with improved power units that significantly reduce the fuel consumption and at the same time offer some more comfortable and smooth driving experience. Panamera 4S is equipped with a 440hp twin-turbo V6, while Panamera Turbo offers the aid of a twin-turbo V8 with a total power output of 550hp. Impressive.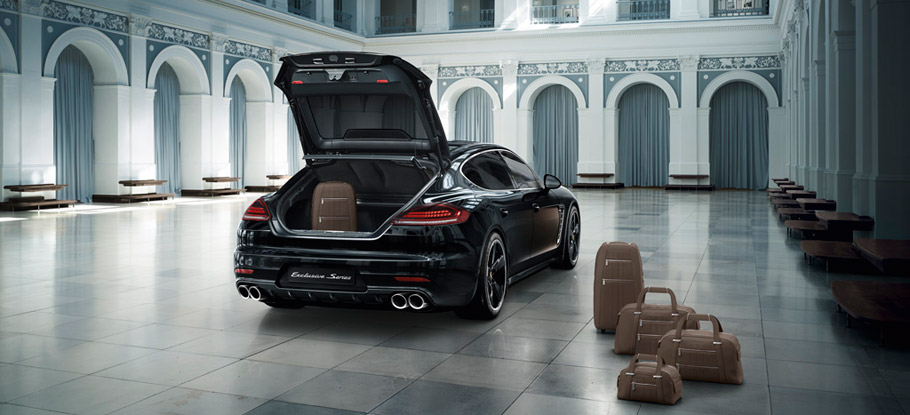 Of course, the engine itself is not the only impressive in the whole drivetrain. The chassis has also received some attention and now comes with fine-tunes that make it more suitable for a sporty adventure. Also, the new electromechanical steering system can be optionally supplemented with adaptive air suspension with three-chamber technology, Porsche Active Suspension Management, improved Dynamic Chassis Control Sport system and Porsche Torque Vectoring Plus.
At the same time the incorporated 4D Chassis Control system analyzes and synchronizes all chassis systems in real time and optimizes the road performance in any given situation, whether we talk about some road challenges or weather moods.
Additional equipment
Of course, 2017 Panamera comes with tons of standard and optional assistance features. One of the latest additions is the Night Vision Assistant that uses a thermal imaging camera to detect people and large animals and then displays some indications on the large screens. Also fresh is the Porsche InnoDrive, which enhances the functionality of the adaptive cruise control. What it does is to gain data from radar and video sensors and then process it via computer and finally show the driver the optimal acceleration and deceleration rates for maximum efficiency, safety and smoothness. And in doing so, the system can automatically take corners, inclines and speed limits into account.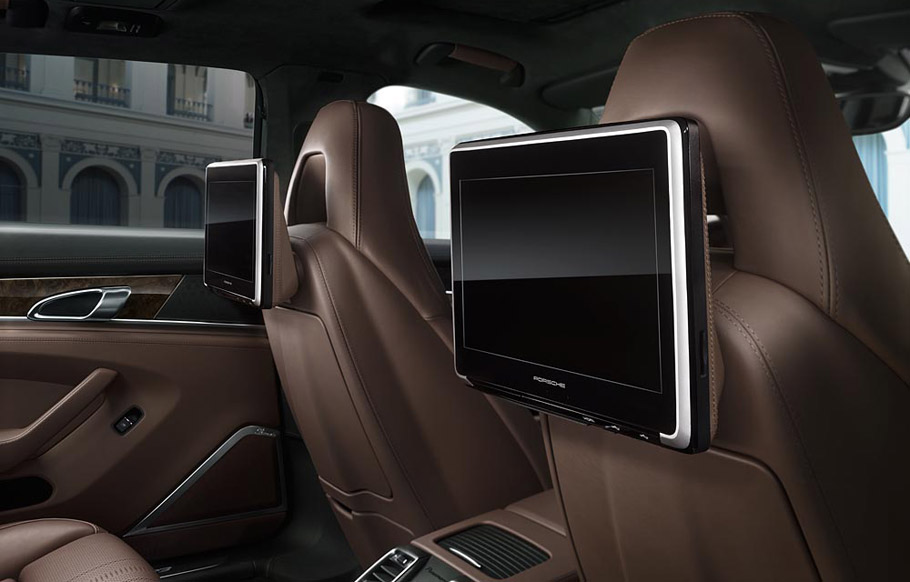 Definitely getting better and better, more and more appealing, the Panamera lineup not only holds its high positions, but tries to expand its own boundaries: 2017 Porsche Panamera is definitely a wonderful vehicle with wonderful characteristics, and we are pretty sure that it will appeal to every Porsche fan and enthusiast. What do you think?
Source: Porsche